Thursday, December 15, 2016, 11:53 AM ET
|
Here's more evidence that most smaller SVOD services are fighting for the attention of a tiny group of prospective subscribers. New research from Limelight Networks indicates that just 13% of SVOD subscribers in the U.S. and U.K. take more than 2 services. Of all respondents, 60% subscribe to SVOD, broken down as follows: 33% taking 1 service, 19% taking 2 services, and approximately 8% taking 3 or more services (which translates to 13% of overall SVOD subscribers).

Since Netflix, Amazon and Hulu have by far the biggest market share, they undoubtedly are among the first 2-3 services most people subscribe to. As a result, all other SVOD services, which in the U.S. exceeds 100, are vying for attention from the sliver of people who go beyond the big 3 to subscribe to others. The data highlights how difficult it's going to be for the dozens of smaller SVOD services to achieve scale.
This distribution is one of the reasons I've been bullish on the Amazon Channels program (originally called the Streaming Partners Program), whereby Amazon subscribers can choose from among almost 100 different SVOD services and have them added with a click, with the video then available within the Prime Video app across devices. Amazon said yesterday that in the year since launch, Channels has driven millions of SVOD subscriptions.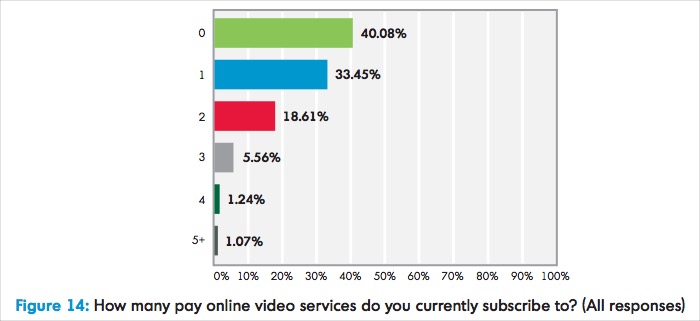 Limelight also found that viewers have high expectations for their video experiences, with buffering once again the most cited frustration, followed by poor quality, incompatible devices and latency at play start. Limelight found that 8% of viewers abandon after one buffering event, 38% after two events and 32% after three events.

In addition, Limelight found that TV shows are the most popular type of content being watched, just ahead of original online content on sites like YouTube, followed by movies, news and gaming videos. Millennials cited TV shows as their most popular content type and surprisingly, respondents over age 60 said original online content on sites like YouTube was their favorite.

The report includes valuable data on other topics such as factors leading to cord-cutting, use of smartphones to watch video, distribution of consumption on mobile/connected TV devices, the role of advertising, Facebook's lead position as a video sharing site and more.

The research was conducted among 1,779 respondents in the U.S. and U.K. who said they watch online video weekly.

The full report can be downloaded here.