Wednesday, June 26, 2019, 11:57 AM ET
|
Nearly half (49%) of online video ad impressions in Q1 '19 were delivered on connected TVs according to new data from Extreme Reach's Q1 '19 Video Benchmark Report, which is based on the company's proprietary ad server. CTVs' 49% share in Q1 '19 was up from its 31% share in Q1 '18. Every other device saw declines in video ad impressions year over year: Mobile from 33% to 25%, Desktop from 24% to 17% and Tablet from 11% to 7%.

As Extreme Reach notes in its analysis, there are multiple tailwinds helping drive up CTV ads: Over two-thirds of U.S. households owned a CTV device by end of 2018, ad-supported services like Hulu, Pluto TV, Tubi, The Roku Channel, etc. are proliferating and growing their usage. vMVPDs like YouTube TV, Hulu with Live TV, etc are expanding their subscribers and viewing times with linear TV consumption. These and other factors are growing CTVs' supply, while enhanced targeting/attribution are enticing buyers.
The other big consequence of CTV's rise is that ad lengths continue to get longer and the 30-second spot in particular is becoming the new workhorse unit, a trend that began about a year ago. In Q1 '18, ER found that 15-second ads held a 48% share to CTVs' 46% share. Shift forward a year to Q1 '19 and 15-second ads dropped to just 28% share, while 30-second ads jumped to 69% share. Even longer ads, while still small, have also gained in popularity. 60-second ads tripled their share from 1% to 3% year over year.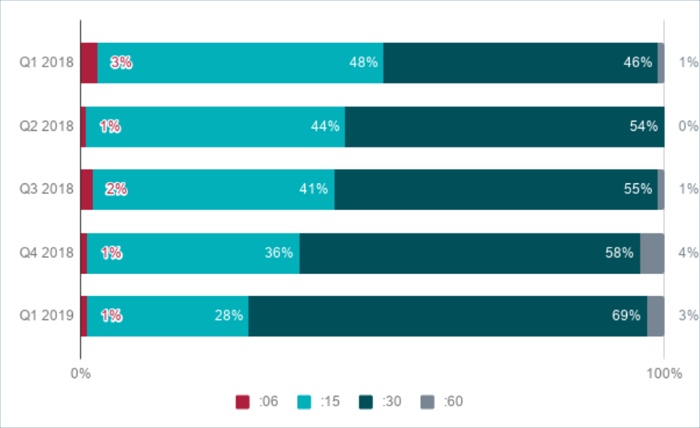 A few other data points worth noting: With CTV's rise, average viewability increased from 62% to 70% year over year. Average video completion rate rose from 81% to 89%, with 30-second ads having a 91% completion rate. Last but not least, ER said that 82% of all CTV ads it served ran on premium publishers' sites, and were sold on a direct basis; CTVs are allowing publishers to maintain control and value of their inventory.

Add it all up and it's clear that CTVs are becoming a huge force in video advertising, offering revenue opportunities to publishers to help them fund higher-quality programming, while buyers enjoy growing efficiency and effectiveness.

The full report can be viewed here.