Monday, October 21, 2013, 12:24 PM ET
|
New research released today by Veveo reveals that nearly 2/3 of pay-TV viewers know what they want to watch "almost always" or "most of the time." In addition, almost 75% of them said they'd like better search capabilities from their pay-TV operator, a preference that dwarfed recommendations as an option, which was cited by less than 5% of respondents. Heavier TV viewers' preference for search was even stronger.

According to Sam Vasisht, Veveo's CMO, whom I spoke to last week, the findings underscore the extent to which search has become an integral part of everyday life for many consumers. The fact that search has become a positive online experience for many means that sub-optimal search tools provided by pay-TV operators becomes more glaringly obvious, leading to viewer frustration and lost revenue opportunities.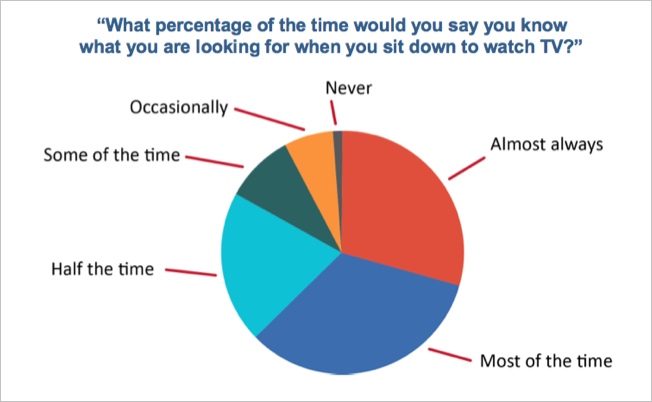 In fact, Veveo found that 85% of pay-TV subscriber respondents said they have turned off the TV without finding something to watch. Of note: fully 20% viewers who watch between 1-5 hours per day of TV (a group which represents approximately 80% of ALL viewers) said they turn off the TV more than 1/2 the time without finding something to watch. More than 60% of respondents said they spend more than 10 minutes per day trying to find something to watch.

The data has broad implications for pay-TV operators as these light-to-medium viewers could be at risk of dropping or reducing pay-TV service in favor of other OTT options, which offer superior search tools to find sought-after programs. Supporting this concern further, the Veveo findings synch with prior research from Digitalsmiths that just 22% of pay-TV subscribers use paid VOD services, vs. 50% using an OTT service (one of the top reasons respondents gave Digitalsmiths was that with OTT services, it's "easier to find what you're looking for.")

The new Veveo research also includes lots of data on similarities/differences between viewers by generation and about conversation user interfaces. Veveo is a provider of semantic technologies for search and discovery across connected devices and applications. The Veveo survey was conducted among 915 participants in the U.S. The full report is available here.