Tuesday, March 14, 2017, 11:31 AM ET
|
Mobile accounted for 54% of video views globally in Q4 '16, up from 46% in Q4 '15, according to Ooyala's latest Global Video Index, which tracks hundreds of millions viewers from its 500+ customers around the world. Underscoring mobile's fast adoption, mobile views were 17% as recently as 2013; Ooyala projects mobile in Q1 '17 will hit nearly 60% of views, a nearly 4x increase.

As always, smartphones accounted for the lion's share of overall mobile viewing and in Q4 '16, they also accounted for virtually all of mobile's growth. In Q4, smartphones racked up 47% of views, with the remainder on tablets. While smartphones' share grew by 8 percentage points just in 2016, tablets lost almost a percentage point.
Ooyala also broke out mobile video consumption of advertising-supported video-on-demand content and found mobile's share to be slightly higher, at 56%. While mobile video consumption of AVOD was up in all geographies, EMEA had the highest level, at almost 60% (with 47% on smartphones), while North America had the lowest at just under 50%.

There's nothing surprising about these mobile video trends and yet lots more growth is almost certainly still ahead, particularly here in the U.S., for many reasons: the advent of unlimited data plans by all the major wireless carriers, those carriers increasingly using video services promotions as bait to lure new subscribers and retain existing ones, the pending entry of Comcast and Charter in wireless which will surely "zero-rate" their multichannel services as Verizon just did with Fios TV, social media companies' (Facebook, Snapchat, Instagram, Twitter, etc.) emphasis on video and last but not least, the release of the iPhone 8 later this year, which will be optimized for video.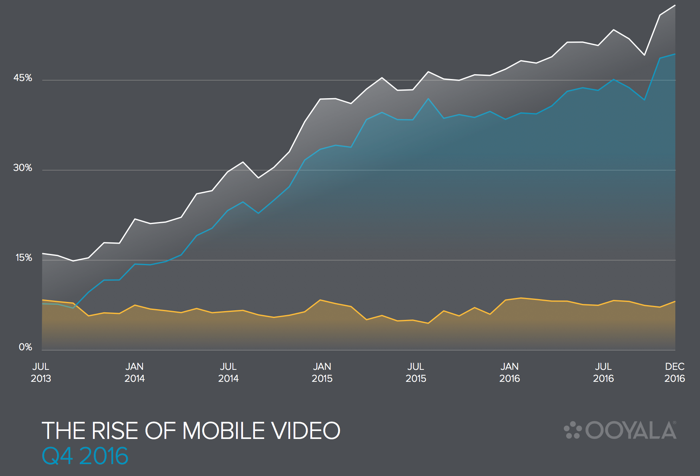 Aside from mobile, Ooyala also found that connected TV are also gaining an important place in viewers' "new living rooms" with 96% of time watched on CTVs long-form content. That compared with 65% for tablets and 47% for smartphones. Desktops continue to have a foothold in long-form with over 50% of their views being long-form.

The report also noted the ongoing dominance of pre-roll ads, with their impressions rising to 47% in Q4 '16 from 44% in Q3 '16. Desktops declined the most, dropping from 44% of impressions to 39%. Pre-roll completion rates for Ooyala's broadcast customers stayed high across devices: CTVs (92%), Desktops (89%), tablets (88%) and smartphones (85%). However, the pre-roll completion rate for publishers on CTV suffered a big decline (down from 85% to 76%), with all other devices roughly flat for publishers' pre-rolls.

There's a lot more interesting data in the Global Video Index, which is available for complimentary download here.