Thursday, December 14, 2017, 10:40 AM ET
|
Almost 75% of 18-34-year-olds use SVOD services at least once per week to watch movies and TV shows, with 40% watching daily, according to new research released by consulting firm Altman Vilandrie & Company. In addition, 40% of 18-34-year-olds use SVOD services daily. 78% of them have at least one SVOD subscription, with 55% having more than one.

These SVOD services are becoming the go-to source for younger viewers, with 77% of 18-24-year-olds using them first when they don't know what they want to watch instead of broadcast or cable. Younger viewers rely most on peer recommendations for what to watch. Conversely, when viewers over 55 aren't sure what to watch, 65% of them first turn to broadcast or cable.
Underscoring the shift to SVOD, when asked which of 201 different TV shows from broadcast, cable and SVOD were "must have," younger viewers skewed heavily toward the latter. Younger viewers identified just one broadcast show in their top 5 favorites ("The Simpsons"), while for viewers over 35, all 5 favorites were on broadcast. 25-34-year-olds chose 33 "must-have" shows vs. just 13 for viewers over 55.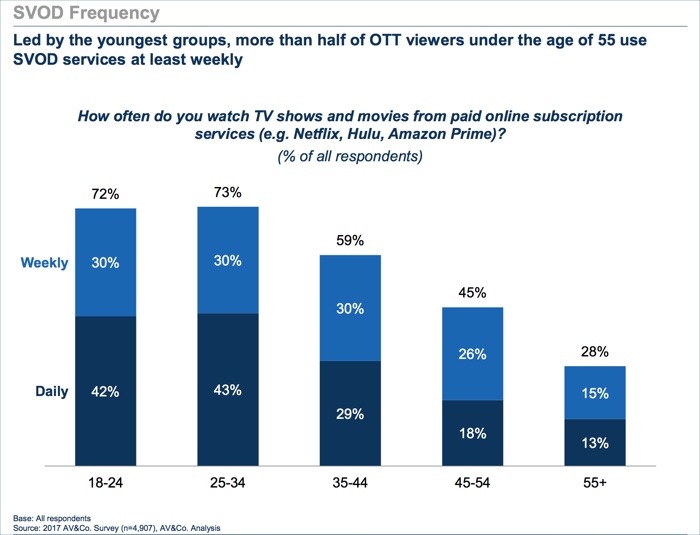 While SVOD use is most popular for younger viewers, AV&Co. found that online viewership has increased for all age groups over the past 6 years. Even among the oldest group, the over 55-year-olds, 40% are watching online at least weekly. And although smartphone viewing has remained relatively flat over the past 6 years for younger viewers, adoption for 45-54-year-olds and over 55 has increased strongly.

The data comes from AV&Co.'s 8th annual consumer video survey, which includes a sample of approximately 5,000 respondents who are video decision-makers in their household. The survey was conducted online in August, 2017. Of the 201 TV programs that respondents were asked to rate their interest in, 32 were SVOD originals.