Tuesday, September 19, 2017, 12:27 PM ET
|
A new survey from SintecMedia indicates that a majority of TV executives believe their organizations are either not well prepared to sell advanced TV and digital video ads in one streamlined process (35%), or aren't sure about their ability to do so (29%). Conversely 41% felt that their organizations are very well prepared to do so.

The new data comes as viewers, especially younger ones, are shifting their consumption to online in record numbers. Consequently, the need to reach audiences across screens, however they may be watching, is critical. That a combined 64% of executives are either not sure or not confident in their ability to sell cross screen ads in a streamlined manner is a worrisome data point.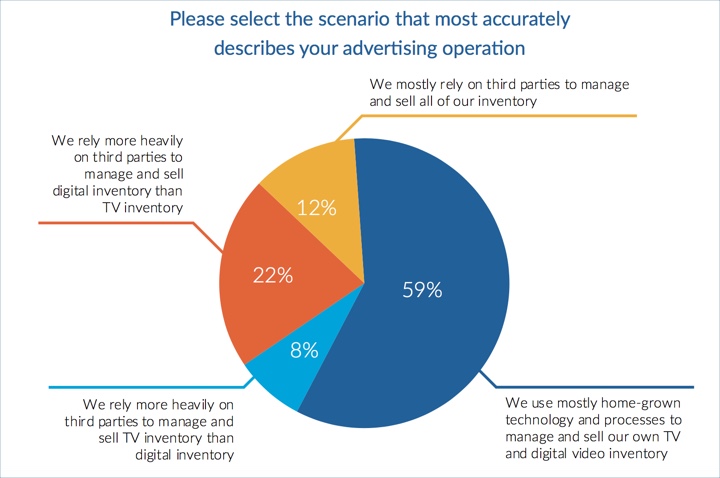 The research observes that part of the challenge for TV networks is identifying technology partners that provide comprehensive solutions. But the research found 59% of respondents conceding that their ad operations are based on home-grown technology to manage and sell their TV and video ads.

Further complicating things is that there's no clear agreement between advertisers and TV networks concerning which converged TV/video campaign metrics matter most. Networks rank impressions, conversion metrics, engagement metrics and audience reach most highly. But advertisers rank audience reach, conversion, GRPs and impressions the highest.

Sintec notes that while data is critical to converged ad models, one of the root challenges is multiple data sets being used with no clear way to synch them up or the campaign results they deliver. Casting aside Nielsen GRPs means giving up the one unified currency the industry has relied on. All of this creates buyer friction and a stark contrast with the singular approaches that Google and Facebook offer.

For TV networks to succeed with audience targeting, Sintec believes converged campaigns will require "fast transactions, easy delivery and big scale." It recommends: 1) Universal Product Catalog that includes all ads/formats across screens, 2) Unified Front-End Proposal System that gives buyers a single insertion order opportunity across all inventory, while maintaining price/product control and 3) Omnichannel Yield Management and Optimization to optimize for all inventory.

Converged advertising across TV and video is the most pressing challenge for TV networks today. But as the Sintec research shows, many networks are still early in developing the necessary capabilities to succeed. Meanwhile big digital platforms like Google and Facebook are investing heavily to get a bigger piece of TV ad spending. A lot is up for grabs in the years to come.

The Sintec research can be downloaded here.