Thursday, April 20, 2017, 10:50 AM ET
|
Videology has released new research showing strong enthusiasm for data-enabled TV ads among agencies and advertisers. According to a study conducted by Advertiser Perceptions for Videology, 64% of respondents believe that within 3-5 years, more than half of total TV buying will be programmatic or "advanced TV." For buyers already using advanced TV, 57% are planning to increase their budgets this year.

The survey defined programmatic as high-indexing linear TV that uses advanced data to define a strategic consumer target ("data-enabled TV") and TV advertising delivered at the household level ("addressable TV").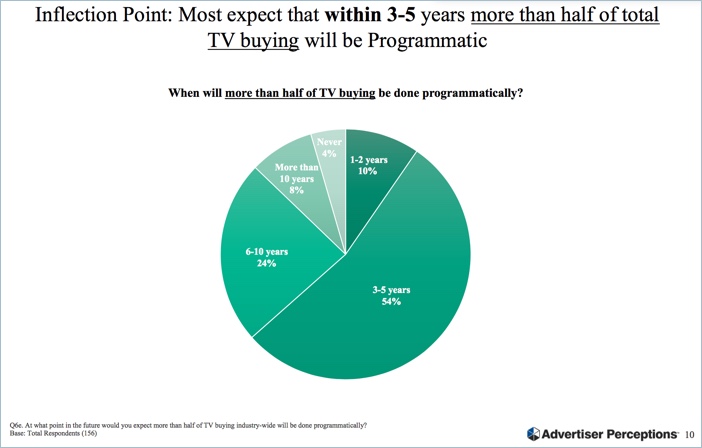 At a time when viewers are rapidly shifting their consumption to on-demand modes, data-enablement and cross-platform campaign planning appear to be buttressing linear TV. The survey found that 88% of respondents have used linear TV advertising in the past year, with 77% saying they intend to over the next 12 months.

When asked what the top 3 benefits of programmatic TV are compared with traditional TV, improved targeting/less waste topped the list (cited by 68% of respondents), followed by more optimized media plan (cited by 37%) and improved measurement (cited by 34%).

Meanwhile, 31% of TV/video campaigns are planned holistically, which respondents expect to increase to 44% next year. Enhanced TV targeting allows campaigns to be planned more accurately alongside video campaigns. And buyers appear to be organizing themselves more to buy across TV and video, with 61% saying buying is now done within one integrated team.

Despite the enthusiasm for programmatic TV, the big challenge at this point is still education and understanding the differences between data-enabled linear TV vs. addressable TV. Just 43% of respondents said they understood the differences between the two, including 76% of those who held more junior level titles.

The research confirms, again, how TV is moving toward a more digital-centric orientation, with deeper data, improved targeting and greater ROI potential. As big digital players like Google and Facebook court ad buyers, expectations of what TV must deliver continue to increase. All of this is fueling data investment across all of the major TV networks.

The survey, which was fielded in early February, included 156 interviews, split almost evenly between agencies and advertisers. The past 12 months average total ad spend was approximately $29 million.

The full report can be downloaded here.