Monday, May 22, 2017, 11:20 AM ET
|
Online video advertising is still relatively new, so understanding its exact impact on critical brand metrics is not yet entirely clear. To better understand the correlations between frequency and impact, YuMe recently conducted a study using Kantar Milward Brown's MarketNorms data and select video ad campaigns that ran in Q1 2017.

Not so surprisingly, at a high level, YuMe found that as viewers experienced more video ad exposures, all brand metrics improved. These metrics include aided awareness, online ad awareness, message association, brand favorability and purchase intent.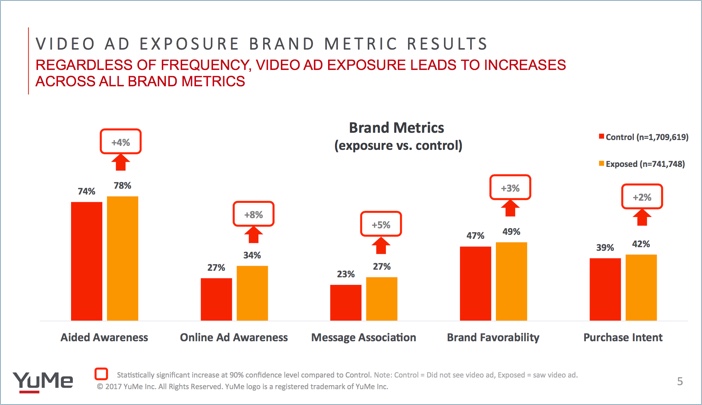 In fact, YuMe found that 8+ exposures yielded the most lift in these brand metrics, with one exception, message association, which peaked at 5-7 exposures. However, at 9 exposures, purchase intent, message association and brand favorability metrics plateau, which the research attributed to viewer burnout.

YuMe also found that 30-second ads have a greater impact on purchase intent than 15-second ads. The research also looked at 4 different verticals: Automotive, CPG, Entertainment and Finance, breaking out frequency and impact findings for each one.

One of the key reasons for understanding the correlation between frequency and impact is that viewers have more control than ever with online video to avoid, skip and block ads altogether. This in turn raises the bar on advertisers to find the balance between getting their messages through but not overly disrupting the viewer's experience.

The research results can be downloaded here.