Wednesday, October 2, 2019, 1:34 PM ET
|
Half of video ad impressions were delivered on connected TV devices in Q2 '19, according to Extreme Reach's latest Video Benchmark Report, which is based on the company's AdBridge ad server. That was up just a bit from Q1 '19, but up significantly from Q2 '18 when CTV accounted for 38% of ad impressions. Other devices' video ad impressions shares dropped year over year: Mobile from 31% to 25%, Desktop from 23% to 16% and Tablet from 9% to 6%. Unclassified took a small percentage as well.
The data is roughly in line with what FreeWheel reported last week in its Q2 '19 VMR, with CTV video ad impressions (55%), mobile (17%) and Desktop (14%). FreeWheel doesn't break out tablet but also include set-top box VOD (14%).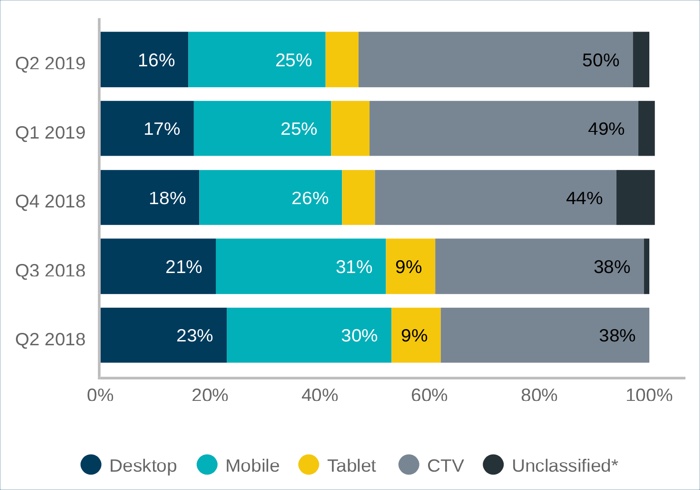 ER noted that a big shift in overall impressions delivered toward premium publishers (broadcast/cable TV networks and other content providers) and away from media aggregators (ad networks, DSPs, agency trade desks) is due to the rise of CTV ads which are almost exclusively used by premium publishers. 83% of all video ad impressions were delivered by premium publishers in Q2 '19, up from 63% in Q2 '18, while media aggregators share fell from 37% to 17%.

ER said that CTV's growing share also contributed to an overall slightly higher video ad completion rate in Q2 '19 of 89%, up from 83% a year ago. CTV had a 95% completion rate vs. tablets (87%), desktop (83%) and mobile (81%). Premium publishers continued to have a higher completion rate (90%) vs. media aggregators (80%). 30-second ads also continued to have the highest completion rate in the quarter (90%) vs. 15-second ads (87%) and 6-second ads (82%).

Click-through rates continued their steady decline in Q2 '19, falling to .14%, half of the .29% rate in Q2 '18. Premium publishers CTR was .32%, while media aggregators CTR was .1%. Mobile had the best CTR with .3%. Clearly as CTVs continue to increase in importance in video advertising, different metrics will need to be developed to measure value beyond CTR.

The ER report also has useful breakout data for auto and direct-to-consumer brands, invalid traffic, viewability and more. The entire report can be downloaded here.