Tuesday, October 29, 2019, 11:06 AM ET
|
A new survey from Hub Entertainment Research found that 63% of respondents identified "online" as the main source of their favorite TV show, vs. 35% who said it is their pay-TV set-top box. The 28 point gap is a big jump from the 2018 survey which found a 56%-44% divide in favor of online.

No surprise, within online, Netflix is by far the number one source of respondents' favorite shows. Netflix was identified by 34% of respondents, followed by 10% for Amazon Prime Video, 8% for Hulu and 4% for "other online."

Hub didn't provide an age breakout for any of the above data, but a separate study released today by Common Sense Media found that for 8-12 year olds, YouTube is by far the most used video service (53%), with Netflix next (27%) and YouTube Kids (7%), Amazon Prime Video (3%) and Hulu (2%) following. An interesting article in today's WSJ helps explain the appeal of YouTube to teens.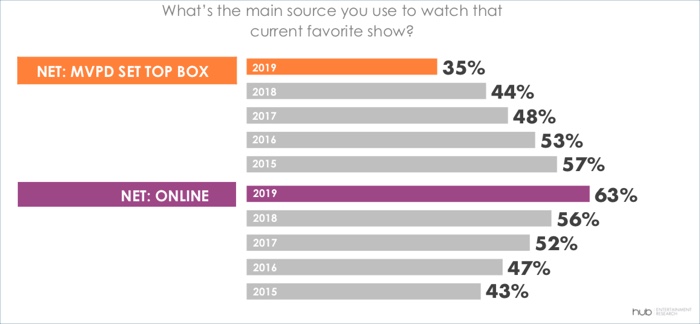 There's also encouraging news for Disney+ (and to a lesser extent Apple TV+), as 59% of all respondents said they were aware of Disney+, and 71% of respondents in households with kids that are aware. For Apple TV+ it was 49% and 57%. Disney+ won't launch until Nov. 12th but it has already been engaged in an all-out drive to raise awareness and sign-ups, which an article in the NY Times yesterday captured well.

Hub also found that respondents overall seem happier with the quality of TV: 72% said they strongly or somewhat agree that "today more of my TV time than in the past is spent on shows I really like" (vs. 68% in 2018's survey) and 53% said they strongly or somewhat agree that "there are more good shows to choose from today than in the past" (vs. 45% in 2018). Finally, 31% of all respondents said they have subscribed to an SVOD service just to get access to one show, with 61% of 16-24 year olds saying they've done so.

Hub surveyed 2,016 TV viewers, age 16-74 who watch at least one hour of TV per week and have broadband. An excerpt of the report is available as a complimentary download.