Monday, November 4, 2019, 12:27 PM ET
|
If you've ever waited for an ad to play while watching something online, only to have the ad never end up playing, you're not alone. According to Conviva's latest quarterly State of Streaming report, 39.6% of all streaming video ads completely failed to play in Q3 '19. The vast majority, 35.7%, were ad start failures, with exits before the ad started comprising the remaining 3.9%. In addition, the average ad start time was 1.14 seconds and the ad buffering ratio was .77%.

Ad failures and delays disrupt the user experience and cause abandonment, both harmful to ad-supported video businesses. As Conviva points out, ad-supported video is already an important business model, and will further grow as viewers cap the number of ad-free streaming services they subscribe to.
Ad failures are being mitigated by the sheer growth in video streaming (the "high water covers all stumps" phenomenon). Conviva found that overall time spent streaming increased 53% in Q3 '19 vs. Q3 '18, with VOD up 61% and live streaming up 42%. The big winner, once again, was connected TV, which was up 58%, compared with PC (up 36%) and mobile (up 33%).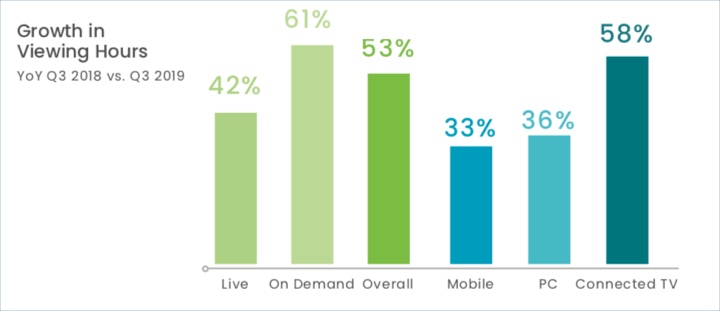 For the quarter, CTV accounted for 56% of viewing hours, followed by mobile (22%), PC (13%) and others (9%). Roku continued its dominance, with 44% share of all viewing. Fire TV was a distant second with 20%, followed by Apple TV with 9% and PlayStation with 8%. In addition to its strong market position, Roku also had the best ad quality, with a .18% ad start failure, 52% better than the prior year. Roku was the only CTV device to also improve start time, by 13% year-over-year.

Content experiences improved in Q3 '19, with buffering down 33% year-over-year and content play failures down 10%. Video had a 6% faster start time on average, with picture quality up 3%.

The Conviva report also includes valuable data on NFL streaming consumption this season including on social platforms.

Conviva's report is based on data collected from 3 billion streaming video applications in which its proprietary sensor technology is embedded. This accounts for 100 billion streams per year and a trillion real-time transactions per day in 180+ countries.

Conviva's Q3 '19 State of Streaming report is avaiable for complimentary download.