Thursday, November 21, 2019, 10:31 AM ET
|
Three key video ad metrics showed ongoing stability in Q3 '19 according to Extreme Reach's latest Video Benchmarks Report. Specifically, premium publishers (direct sellers of ad inventory) maintained 80% share of video ad impressions (compared to 82% and 83% in the prior 2 quarters), while media aggregators' share was 20% (compared to 18% and 17% in the prior 2 quarters).

Given this, it's no surprise that 30-second spots, TV's traditional workhorse unit, accounted for 66% of video ad volume in Q3 (comparable to 64% and 69% in prior 2 quarters). 15-second spots accounted for 32% of video ad volume (in line with 33% and 28% from prior 2 quarters).
The third trend showing stability was CTV's continue role as the primary device for video ad impressions. In Q3, CTV accounted for 51% of video ad views, slightly up from 50% and 49% in the prior 2 quarters. Mobile (26%), Desktop (15%) and tablet (5%) were all within a point or two from prior quarters.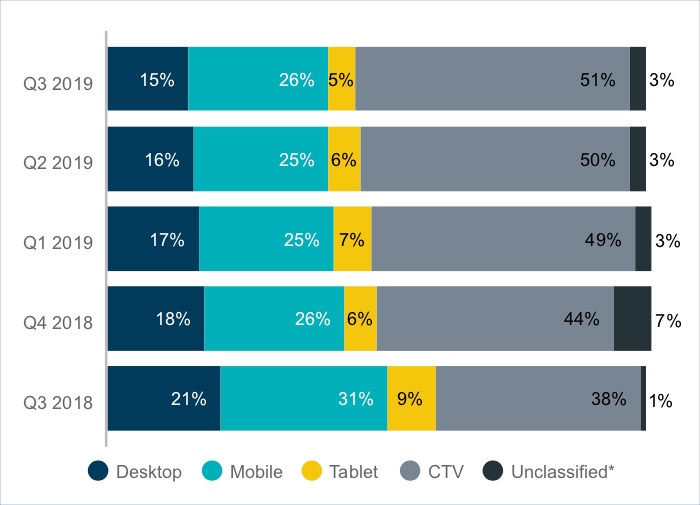 It's important to note that while these 3 metrics have had relative stability in the 9 months of 2019, all 3 achieved substantial step-ups from Q3 '18. This likely reflects holiday 2018 CTV purchases, which, as they were activated, flowed through to more long-form premium viewing, which is in turn supported by traditional 30-second ads.

As holiday season 2019 approaches, the obvious question is whether the metrics are poised to achieve another step-up going into 2020. One potential indicator the answer could be "yes" is the record level of cord-cutting (1.8 million) that happened in Q3, which almost certainly means increased consumption via CTVs. It remains to be seen how much of this potential increase in CTV viewing will flow to new ad-free services like Disney+ and Apple TV+ vs. ad-supported options. Of course, even if ad-free's share increased, there could still be a step-up in CTV's share of ad-supported video relative to mobile/tablet/desktop, in addition to a larger ad volume driven by an increase in the number of CTVs in use.

The full Extreme Reach Video Benchmarks report, which includes lots of other valuable data, is available here.