Thursday, March 16, 2017, 11:16 AM ET
|
As of year-end 2016, 22% of the 100 million U.S. homes that subscribe to broadband did not also subscribe to a pay-TV service. That's up from 9% of the 85 million U.S. homes that subscribed to broadband but did not also subscribe to a pay-TV service in 2011. Over the course of 2016 alone, the rate of broadband homes subscribing to pay-TV declined from 82% to 78%, resulting in 22 million broadband homes without pay-TV at the end of last year, compared with 8 million in 2011.

The data comes from a new report from The Diffusion Group, "Life Without Legacy Pay-TV: A Profile of U.S. Cord Cutters and Cord Nevers" that has just been published.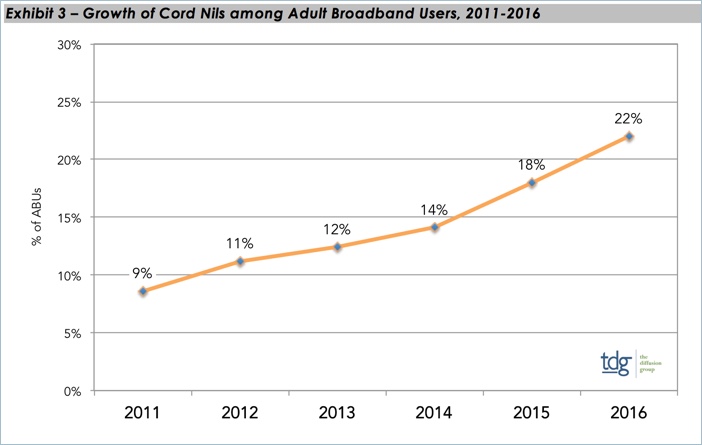 TDG calls broadband non-subscribers "cord nils," which compromises both cord-cutters (77% of the total) and cord-nevers (23% of the total). Cord nils skew younger, poorer, more rural and slightly less educated than pay-TV subscribers.


No surprise, the cost of pay-TV service is a primary reason not to subscribe, cited by 68% of cord-cutters and 65% of cord-nevers. This is consistent with research from TiVo I wrote about last week, explaining how pay-TV's high cost is creating huge industry vulnerability. However, for cord-cutters, an equal 68% of them said that satisfaction with subscription streaming services was a primary reason for not subscribing to pay-TV.

83% of cord nils subscribe to a streaming video service (vs. 73% for pay-TV subscribers), with 69% subscribing to Netflix. However, the most widely used source of TV content for cord nils is DVDs/Blu-ray discs (66%), followed by streaming services (58%) and OTA broadcast (approximately 58%).

Cord nils seem unlikely to change their behavior and come back to pay-TV: just 8% are moderately or highly likely to sign up for pay-TV in the next 6 months. Only lower prices registered as having any potential impact on inducing potential subscriptions.

TDG also tested interest in a hypothetical skinny bundle with all 4 broadcast networks, 10 cable networks of respondents' choice, live/on-demand access and no contract, at prices of $20, $25 and $30 per month. 37% of cord-cutters were highly inclined to sign up vs. 24% of cord-nevers. Low price was the key motivator.

There is a ton more detail behind all of the above data in the full report (which is available for purchase). Overall, the report underscores how the high price of pay-TV is driving more and more people away from subscribing, with alternative sources of video (e.g. streaming, OTA, discs, pay-per-use, etc.) combined with widespread adoption of connected TV devices, enabling millions of U.S. homes to still watch plenty of video, albeit accessed in different ways.

Importantly, the trend toward broadband homes going without pay-TV accelerated significantly in 2016, which should increase the industry's urgency to respond.

The TDG research is based on an online survey of 1,993 U.S. adult broadband users conducted in December, 2016.