Wednesday, August 13, 2014, 11:27 PM ET
|
TV Everywhere proponents will find a lot to like in FreeWheel's newly released Q2 2014 Video Monetization Report. Ad views on authenticated on demand long-form plus live-streaming content grew 619% vs. Q2 '13. Fully 38% of these content formats' ad views now come via authentication, up from just 8% a year ago.

Live content was up 201% year-over-year, with 81% of live ad views attributable to sports. Q2 included marquee events like World Cup, NBA and NHL playoffs. The share of live content's ad views vs. total ad views increased from 8.1% in Q2 '13 to 18.3% in Q2 '14.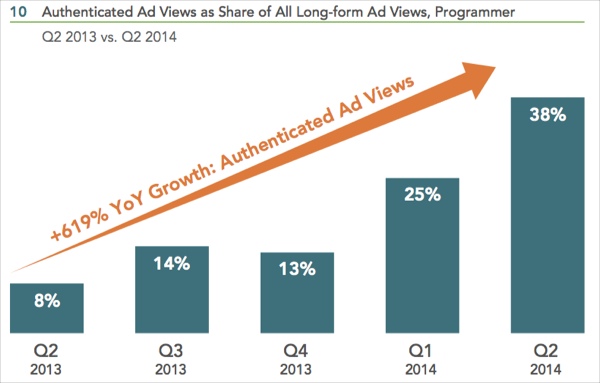 Sports are playing a critical role in educating pay-TV subscribers about the concept of TV Everywhere and how to log in to gain access. FreeWheel noted that these live events are creating an expectation by viewers that they can watch events anywhere and on any screen. And, in one of the more bullish TVE-related statements I've seen, the report goes on to say "Viewers…are happy to enter their MVPD credentials" to watch live events. "Willing" maybe, but "happy" I'm not so sure...

Still, the FreeWheel data offers a glimmer of hope for TVE, which, 5+ years since its debut, continues to be challenged by rights issues, inconsistent implementations, lack of awareness and other issues. With more sports requiring TVE authentication, they are clearly going to be the locomotive driving the TVE train.

Two other noteworthy data points in the FreeWheel report. First, desktops/laptops continue to dominate video viewing, with 76% of ad views delivered, basically flat from a year ago. Smartphones follow with 13% share (up 93%), then tablets with 7% (up 26%) and OTT devices with 4% (up 236%). Among OTT devices, Roku has the largest share at 34% followed by gaming consoles (33%), Apple TV (26%) and Chromecast (7%).

And second, ad loads continue to increase, particularly in long-form content, where the length of the average ad break increased from 68 seconds in Q2 '13 to 98 seconds in Q2 '14, with 2.7 and 3.7 ads delivered, respectively. While the report notes that content providers are moving to align video ads with linear TV, a 98 second (about 1 1/2 minutes+) ad break is still relatively short by comparison. But, unless viewers push back strongly, it wouldn't surprise me if within a few years the breaks were at parity.

The full report is available for complimentary download here.