Tuesday, March 11, 2014, 11:03 AM ET
|
Over half (52.4%) of pay-TV subscribers still don't know whether their provider offers an app that allows for tablet or smartphone-based viewing, according to Digitalsmiths' new Q4 '13 video trends report. The level is basically the same as the company's Q3 report. Just 21.6% of subscribers have downloaded their provider's app (up slightly from 19.6% in Q3), but almost 60% of those that have downloaded it use it either less than once per week or never.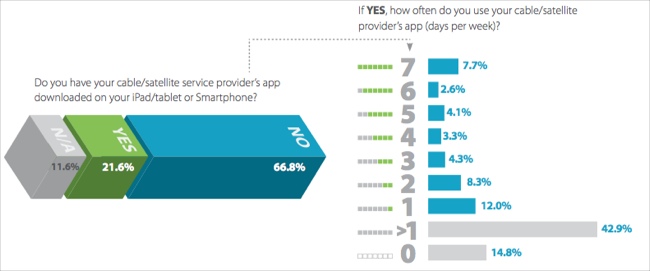 The anemic usage of pay-TV providers' TV Everywhere apps underscores how much more education is required by the industry. TV networks' apps appear to be doing a little bit better. ABC leads in app downloads with 7.5%, followed by WatchESPN (5.5%), CBS (5.1%) and Hulu (4.8%). Even among people who have downloaded these apps though, over 43% use them less than once per week or never.

But TVE usage is also a reflection of the fact that long-form video viewing on tablets and smartphones is still a relatively nascent trend. Although nearly 72% of respondents said they own a tablet and/or smartphone, over 80% said they watch either less than an hour per week or never watch TV shows or movies on their smartphone, with 53% saying the same for their tablets. For now, regularly viewing long-form content on tablets and smartphones is common for a relatively narrow slice of the population.

Meanwhile over 45% of pay-TV subscribers are using an OTT service like Netflix or Hulu Plus, down slightly from the 48.2% level in Q3 '13. Convenience (59.2%), cheaper (50.1%), ability to watch certain TV shows and whole seasons (38.5%) continue to be the primary reasons people subscribe to these OTT services. Conversely, only 27% of respondents said they ordered paid VOD movies from their pay-TV operator, about the same as Q3.

Last but not least, despite the massive proliferation of video choices, over 80% of TV viewers still watch just 10 or fewer channels, with over 88% watching the same channels "over and over again." It's no secret that viewership is concentrated this way, but it is still somewhat surprising given the breadth of video options today.

The full report is available for complimentary download.