Monday, September 13, 2010, 9:31 AM ET
|
When it comes to videos being viewed off of their own web sites through embedding, it turns out that newspapers lead all other verticals, according to a new Q2 '10 online video usage report from Brightcove and TubeMogul. For newspapers, 13.6% of their videos are consumed off-site, whereas for broadcasters, which had the lowest percentage of off-site viewership, it was 1.9%.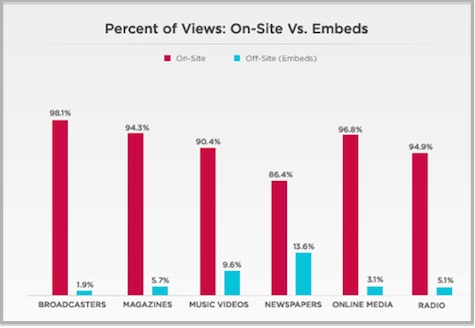 For minutes watched per view on-site vs. off-site, newspapers decline a little, from 1:25 minutes on-site to 1:10 off site, far better than broadcasters which dropped from 3:00 minutes to 1:59 minutes. Only one vertical, online media, actually increased its off-site viewership time, to 1:45 minutes from 1:32 on-site. Whether through proactive syndication or making video embeddable on other sites so that users can virally distribute video, off-site viewership is important because it helps bring content to where users already are, rather than forcing them to come to a destination site. Of course, more views equals higher monetization. With their primarily short-form video, newspapers are well-suited to off-site consumption, and from the data it looks like they understand this and are taking advantage.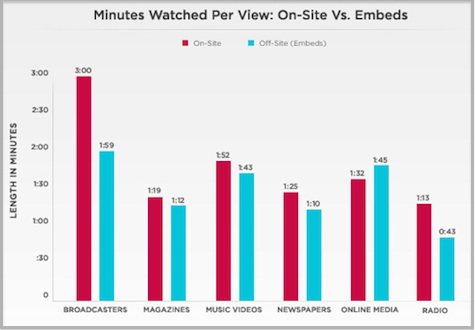 Still, the report indicates that broadcasters remain the top source for online video streams, with 406 million for the quarter, up 25% vs. Q2 '09. Behind broadcasters is online media with 300 million streams, followed by newspapers with 225 million, up 65% vs. Q1, largely due to coverage of the BP oil spill. In terms of the number of videos, newspapers and magazines led with 2.3 billion "player loads" (defined as the graphics and components rendered on the video's surrounding web page), up 40% vs. a year ago. Related, almost 82% of videos were discovered from within the site itself. Third-party referrers were led by Google (64%), with Yahoo (11.9%) a distant second, followed by Facebook (4.3%). The report notes that with Facebook's growth rate, it will be ahead of Yahoo by year end.
Separately, a survey of 300 brand managers of major consumer and B2B companies found that 85% of them are now using online video on their own web sites, with almost 60% saying they plan to increase their spending on video initiatives. 80% of brands surveyed reported distributing their video on YouTube in addition to their own sites and almost 90% reported distributing to social media sites like Facebook. Conversely, when it comes to mobile video, over 60% said it isn't currently in their marketing mix, though the same number said they plan to pursue it over the next 12 months.
The video stream data is drawn from a cross-section of Brightcove's customers. It's meant to be a directional snapshot and is not meant to be statistically significant. Engagement is based on TubeMogul's online video analytics.
What do you think? Post a comment now (no sign-in required).