Friday, August 14, 2015, 9:35 AM ET
|
The range and quality of online original programs is unquestionably improving as investments by OTT services soar. What gets far less attention - but is equally important - is that the viewers' actual experience watching these new programs must be high quality and free of buffering/other annoyances. The best content in the world will not make up for lousy delivery. Increasingly, a TV-quality level of experience is where viewers set their expectations.

Fortunately there was some good news this week on the quality of experience front, with Conviva reporting mid-year 2015 quality metrics gleaned from analyzing billions of video streams worldwide. Some of the key data points, according to Conviva's mid-2015 Viewer Experience Report, were:
- Full start failures dropped to 2% of all views from 2.6% in 2014 and 4.8% in 2013.

- Views that experienced buffering dropped to 23.5% from 28.8% in 2014 and 26.9% in 2013.

- Views impacted by low resolution dropped to 54% from 58.4% in 2014 and 56.7% in 2013.

Conviva attributed the improvements in these metrics to a two factors: (1) greater industry experience and proficiency delivering OTT services and (2) evolving business models that now include syndication of OTT services to partners whose delivery quality can be closely monitored. Taken together, OTT delivery has become core for many content providers, therefore demanding the highest-quality experience be delivered.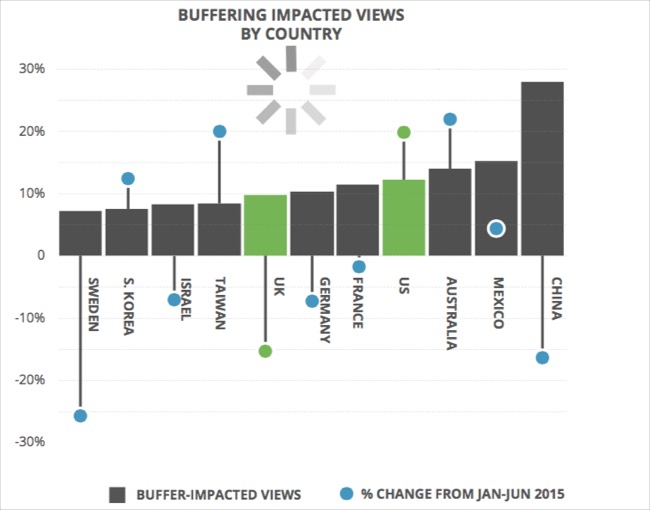 The full report includes detailed data and charts on picture resolution, buffering and view start failures, all on a country-by-country basis for 11 countries including the U.S. The metrics vary by country, but overall the improving quality trend is clear. All around the world, online viewer experiences are improving, which is great news for viewers and also for media companies increasingly building their businesses online.

The full report is available here.