Monday, August 23, 2010, 2:48 PM ET
|
Research firm SNL Kagan is reporting today that the U.S. pay-TV industry (cable/satellite/telco) lost 216,000 multichannel TV subscribers in Q2 '10, the first time the industry as a whole has lost subscribers. Cable operators bore the brunt of the losses, dropping 711,000 subscribers, with Kagan saying 6 of the 8 operators reporting suffered record quarterly losses. By contrast, telcos added 414,000 subs in the quarter and satellite providers gained 81,000. The losses leave cable's industry share at 61%, down from 63.6% a year ago.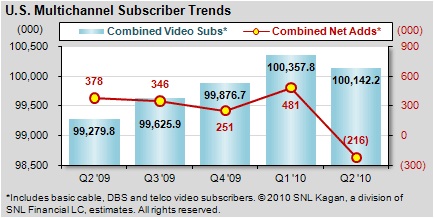 Kagan analyst Mariam Rondeli ascribed the quarterly losses to low housing formation and high unemployment due to the ongoing recession, coupled with churn due to promotions from last year's broadcast digital transitions expiring. Rondeli pointed out that over-the-top video alternatives were not the cause. By comparison, the pay-TV gained 378,000 subscribers in Q2 '09, meaning there was a swing of 594,000 subscribers year-over-year. U.S. Pay-TV providers as a whole ended Q2 '10 with 100.1 million subscribers.
Looking ahead, I've heard some murmurs that Q3 '10 could be softer than in prior years, again partially due to the recession, but also because seasonal college students' subscriptions may be reduced due to over-the-top alternatives. While we've yet to see any tangible evidence of cord-cutting, the first impact may simply be slower multichannel sign-ups from younger users more accustomed to watching online. We'll see.
What do you think? Post a comment now (no sign-in required).