Tuesday, April 25, 2017, 10:39 AM ET
|
Here's one measure of how popular watching online video in the living room has become: according to new research from Parks, which was presented at NABShow, among broadband households, over 25% of viewing done on TV was from online sources, up from 10% in 2010. No surprise, linear broadcast TV saw the biggest decline over that period, dropping from 62% of TV time to 41% of time.
The shifts reflect significant trends that have unfolded over the past 7 years: the proliferation of inexpensive connect TV devices (e.g. smart TVs, Rokus, Fire TVs, etc) that are now in at least 65% of U.S. homes according to prior research, the huge adoption of entertainment-centric SVOD services, where a "TV-like viewing" experience is preferred, and the massive investments these companies have made in high-quality original content to win market share.

As I've long said, this "democratization of the living room" - where OTT video is available as easily as are TV networks from pay-TV - opens the door to increased cord-cutting and cord-nevering. Even though the vast majority of SVOD subscribers today still have a pay-TV service, as they intuitively come to understand they're spending more time watching inexpensive OTT services, the expensive multichannel bundle becomes ever more vulnerable to being dropped.

In fact, Parks found that almost 1/4 of broadband households were not pay-TV subscribers, the latest steady annual increase. To be sure, I still don't anticipate any sort of "cliff," where say 10% of pay-TV subscribers drop service in a single year. Rather pay-TV shrinkage will be more of a drip, drip, drip dynamic. This is substantiated also by Parks, though it did find the percentage of cord-cutters 18-35 years-old has noticeably jumped in the past 2 years by around 4 percentage points.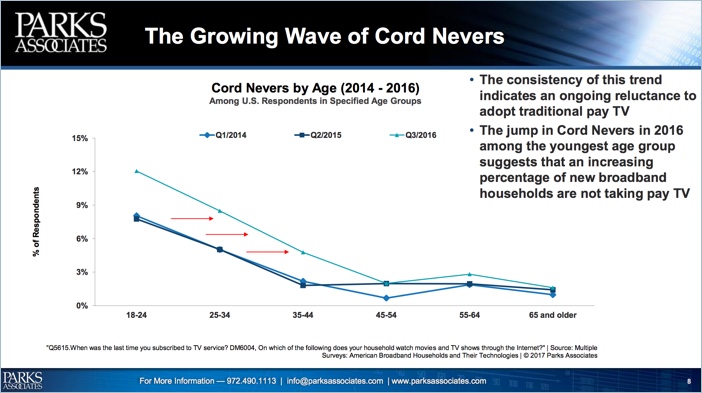 Parks also found that the market for OTT services in the U.S. remains vibrant, with over 160 choices offered. However, Parks sees saturation starting to occur, as 33 new services entered in '16, vs. 33 in '15. In addition, the trend of OTT services being closed or merged has also become a factor in the past 2 years.

About two-thirds of U.S. broadband households now subscribe to at least 1 OTT service, with one-third of households subscribing to two. The trend toward multi-service households has steadily increased.

Part of the reason OTT adoption has increased so quickly is that it has found a winning formula with free trials. Parks found that a third of OTT trials converted a paid subscription, while half of all consumers who trialed any service eventually subscribed to at least one post-trial. Both are very strong results that show how successful the free trial period strategy is.