Thursday, September 12, 2013, 10:51 AM ET
|
Ooyala is showing a new mosaic player, giving viewers the option to watch up to 5 live or on-demand video streams simultaneously. The company has also released its Q2 2013 Global Video Index, with new data reinforcing the growth of mobile and tablet video.

The mosaic player (see screen shot below) will first be available on the desktop, and subsequently will roll out on tablets, smartphones and connected devices. Ooyala's director of products Sudhir Kaushik showed it to me last week and explained it is mainly intended for sports broadcasters looking to provide multiple camera angles and/or sports fans trying to watch multiple games at once. Sudhir touted the increased monetization opportunities that the mosaic player creates, as well as the personalization for users. All of Ooyala's analytics are included in the mosaic player.
The mosaic player is certainly an improvement over today's model of switching streams, but I raised 2 concerns - do devices have the processing capability for managing 5 streams at once, and will users exceed bandwidth availability and monthly caps? On the first point, Sudhir noted that all of the video uses adaptive bitrate streaming so if there are processing (and/or bandwidth) issues, the streams' quality will adjust. In early testing, processing hasn't been a problem.

Bandwidth is more of an unknown, though Sudhir said in testing availability has been OK. As usual, heavy users will have to keep an eye on their caps. Sudhir said a number of Ooyala's marquee sports customers are "chomping at the bit" to try the mosaic player, which will be in pre-release later this year.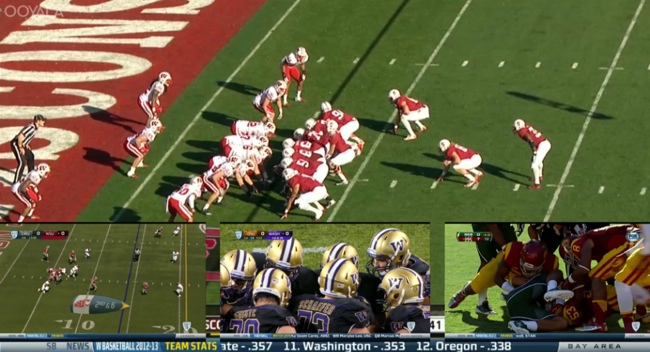 Separate, Ooyala also released its Q2 2013 Global Video Index, which showed, among other things, mobile/smartphone and tablet video viewing combined for a 13% share of all online viewing, up from 8% in Q4 '12 (note FreeWheel pegged mobile viewing at 13.2% yesterday). Mobile phone viewing grew 41% in the first half of 2013 and tablet viewing grew 59%. Somewhat counter-intuitively, peak play times for mobile are Friday and Saturday nights, between 8-10pm. Tablet views peak on Friday nights. More than half of tablet viewing time is now on long-form content.

Conversely, desktop viewing peaks on weekdays at noon and diminish in the evening and weekends. Desktop appears to be a short-form and live experience: more than half the video viewed is less than 6 minutes, and live video outpaced on-demand by 15x.

The full report is available for download here.