Tuesday, March 15, 2016, 11:20 AM ET
|
Ooyala has released its Q4 '15 Global Video Index, finding that mobile video now accounts for 46% of views. That's up slightly from the 45% Ooyala reported in Q3 '15 and 44% it reported in Q2 '15, suggesting that mobile viewing share may be starting to plateau. Smartphones still dominate mobile viewing, driving 6x the share of tablets. For the second quarter in a row, 69% of all videos watched on smartphones were under 10 minutes.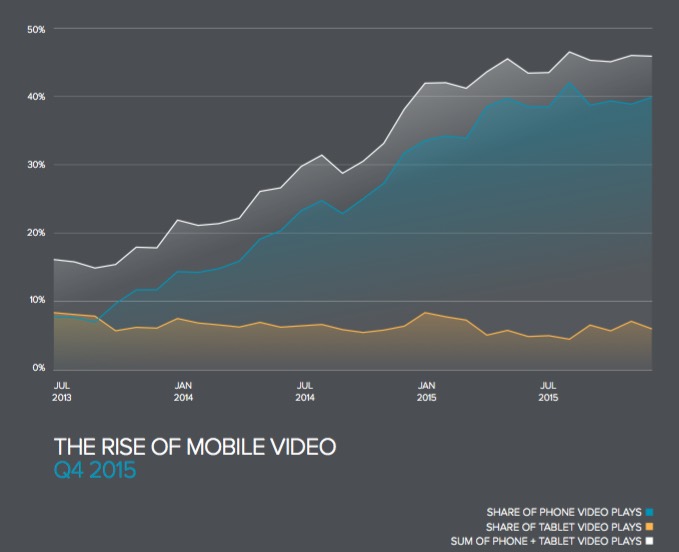 Connected TV devices continued to take the lion's share of longer form viewing, with 74% share of videos longer than 10 minutes, up from 43% in Q1 '15.

Ooyala also broke out Asia Pacific trends for Q4, finding similar patterns. Mobile viewing accounted for 43% of views with 5 countries above average: Singapore (55%), Australia (53%), Japan (50%), Indonesia (49%) and South Korea (47%).

Tablets are also stronger in APAC, with smartphones only getting 3.7x the share of tablets. Smartphones have a higher share of videos longer than 10 minutes, with 55%, while desktops led for videos shorter than 6 minutes, with 54% share.

Separate, Ooyala also provided an update on programmatic advertising, finding that in its footprint, pre-arranged programmatic transactions increased by 160% in Q4. Ooyala had 114 publishers offering programmatic marketplaces, up from 94 in Q3 '15, with CPMs up 26% in the 4th quarter.

As always, Ooyala's quarterly report is based on anonymized data from most of the company's 500+ customers.

The full report is available as a complimentary download here.