Thursday, June 25, 2015, 10:43 AM ET
|
Ooyala has released its Q1 '15 Video Index, and as with all of its recent reports, the headline is the surging growth of mobile video, whose share is now at 42% of online video views. That's up nearly 5x from the 9% share mobile video recorded in Q1 '13. Ooyala restated its forecast that mobile video will surpass 50% of online video views in Q3 '15, if not sooner.

No surprise, Ooyala cites smartphones as the big driver of mobile video usage, noting that the ratio of smartphone plays to tablet plays has increased from 2:1 in Q4 '13 to 4:1 in Q1 '15. In fact, tablet share has remained constant at 8% during that time. Ooyala cites the rise of larger screen size smartphones (particularly iPhone 6 and 6 Plus) as spurring mobile video adoption and stunting tablet viewing.
Ooyala found that broadcasters' content had the highest share of mobile viewing (53%), with publishers and brands both getting 31%. And although tablet share may be flat, tablets actually have the highest amount of time (59%) spent watching long-form content (10 minutes or longer) of any device. Connected TVs (43%), smartphones (37%) and PCs (35%) follow.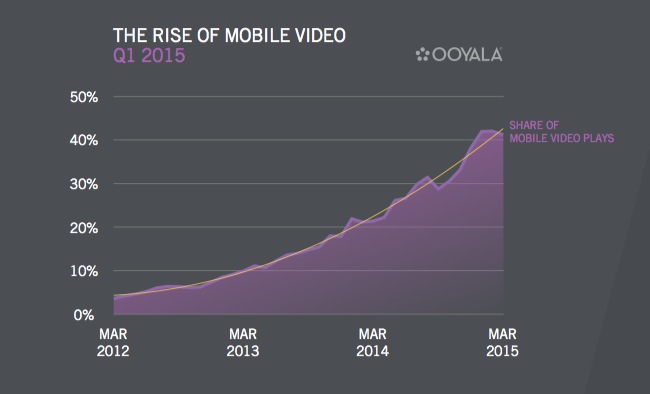 Despite the rapid rise in mobile viewing, video ad dollars lag on a relative basis and are forecast to continue to do so. For instance, eMarketer recently predicted $2.62 billion in spending on mobile video ads in 2015, which is 33.7% of online video, rising to $6.9 billion in 2019, which would still be less than half of online video spending. It's too early to predict how mobile video viewing will grow over the next 4 years, but if growth trends found by Ooyala continue at even much reduced rates, by 2019 mobile video would be well over half of all online video plays.

In addition, as I pointed out a couple of weeks ago, mobile video and the adoption of auto-play/audio-off video in Facebook are already influencing creative in both content and advertising. As mobile's share grows further, these creative trends will accelerate.

In the Q1 Video Index, Ooyala also shared for the first time data on how its Ooyala Discovery data-driven recommendation engine is influencing viewing decisions. At a high level, Ooyala found that if a video is recommended 10 times, it will actually be viewed between 35%-50% of the time. In addition, Ooyala found that recommended videos as a percentage of organically found videos ranged from 6% to 21%, with viewing time for recommended video as a percentage of organically found videos ranged from 3% to 18%.

Recommended videos improve the user's experience driving extended viewing time which in turn translates to higher revenue through increased advertising.

The full report is available for complimentary download here.