Wednesday, September 21, 2016, 9:16 AM ET
|
According to Ooyala's newly released Q2 '16 Global Video Index, mobile viewing now accounts for 50.6% of all video views, up a whopping 10x from the 5% viewing share on mobile in Q2 '12. Ooyala has been tracking mobile viewing for years and this is the first time it has crossed the 50% mark. One year ago, in Q2 '15, mobile was at 44% viewing share and two years ago, in Q2 '14, it was just over 25%.

Ooyala attributed the strong growth to the popularity of smartphones and robust WiFi, especially globally. 64% of American adults now own a smartphone and 90% of millennials reported they're almost never without them. 75% of viewers age 18-29 watch video on their smartphone.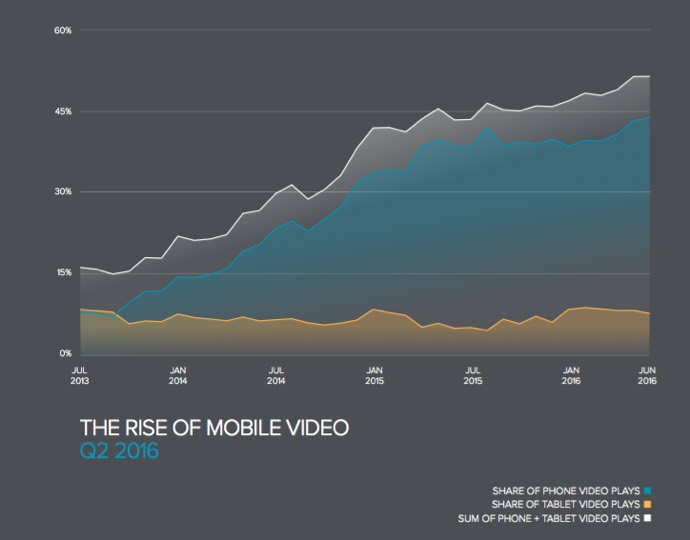 Smartphones continued to dominate tablets as the preferred mobile viewing device. Smartphones accounted for 43% of all video views, compared to 8% for tablets. However, tablet viewing was up 52% vs. Q2 '15 whereas smartphone viewing was up just 10%.

Combined, iOS and Android smartphones accounted for 98% of all smartphone viewing, with usage just about equal: Android with 50% and iOS with 48% of views. However, iPhones are slightly ahead when it comets time spent watching on a smartphone, with 52% of time, vs. 47% for Android.

For tablets though, iOS continues to dominate, with 65% of video views vs. 34% for Android (though that compares with a 91%-6% split a year ago). Time spent watching on a tablet favors iOS too, with 73%, compared to 27% for Android (though that too was more balanced than last year's 93%-6% split).

But Ooyala noted research from Kantar Worldwide showing iOS losing share everywhere except China, with Android having a global market share of 68%. With this trend continuing, Android smartphones and tablets will grab further video viewing share in the coming years.

In addition to the mobile data, the Q2 Video Index also includes extensive data and analysis on how heavy video viewers consume SVOD, AVOD and TVOD; key advertising trends, including in programmatic; the impact of churn on SVOD services; and engagement patterns by device type.

The Ooyala data is drawn from 220 million global video viewers who generate 3.5 billion video "analytic events" per day.

As always, the Video Index is an indispensable tool in helping further understand the evolving online video landscape. Once again, the full report is available as a complimentary download.