Monday, March 31, 2014, 10:51 PM ET
|
Ooyala released its Q4 2013 Global Video Index, finding an increase of 719% in video viewing on mobile devices and tablets since Q4 2011 and 160% since Q4 2012. In December, 2013, mobile and tablet viewing accounted for 26% of time played, up from 18% in October. Based on current growth rates, Ooyala forecasts that by the end of 2015, 37% of all video viewing will be on mobile devices and tablets, and by the end of 2016, it will amount to fully half of all viewing.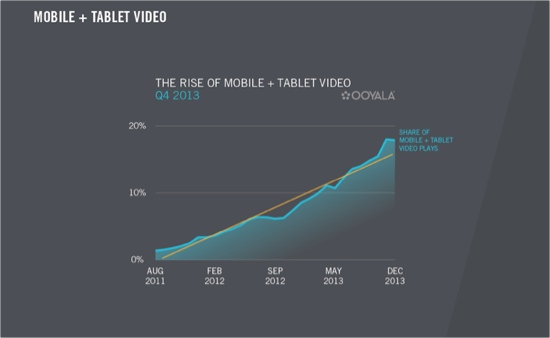 Ooyala said that the proliferation of video-capable mobile devices and tablets, WiFi hotspots and new multi-screen services have led to rapid increases in mobile video usage. Somewhat surprisingly, more than half (53%) of mobile viewers' time was spent watching video longer than 30 minutes in Q4, compared to 35% for tablet users. Additionally mobile video share of plays increased by 21% from Q3 to Q4 2013.
Among the hungriest consumers of online video across all screens are sports fans who watch live sports 3 times more than video-on–demand (VOD). In sports, mobile surpassed tablets for long-form viewing time: 62% of mobile viewers watched content longer than 10 minutes, whereas 60% of tablet users' time was on content 1-6 minutes. The average time spent watching live sports is just less than 20 minutes per play. Connected TVs perform well for sports, with 87% these viewers' total viewing time in Q4 spent on videos longer than 10 minutes.

Ooyala's Global Video Index report measures anonymized viewing habits of about 200 million viewers in more than 130 countries every month, and processes billions of video analytics events each day.

The full report is available here.

Separately, Ooyala also announced a strategic partnership with Microsoft for its Azure Media Services. Ooyala will become a preferred online video provider for Microsoft and Microsoft will be Ooyala's preferred public cloud provider. Ooyala also formed a global sales and marketing alliance with Microsoft to drive standards for new personalized TV services.