Wednesday, March 11, 2015, 11:20 AM ET
|
Ooyala has released its Q4 '14 Global Video Index, once again showing the powerful rise in mobile as a preferred viewing platform for online video. A record 38% of video views in December, 2014 occurred on mobile devices, up from less than 18% in December, 2013. For the full fourth quarter of '14, mobile accounted for 34% of video views.

When it released its Q3 Global Video Index in December, '14, Ooyala forecasted that mobile video's share will cross 50% industry-wide by Q3 '15. Since 2011, mobile's share of video plays has increased 16-fold.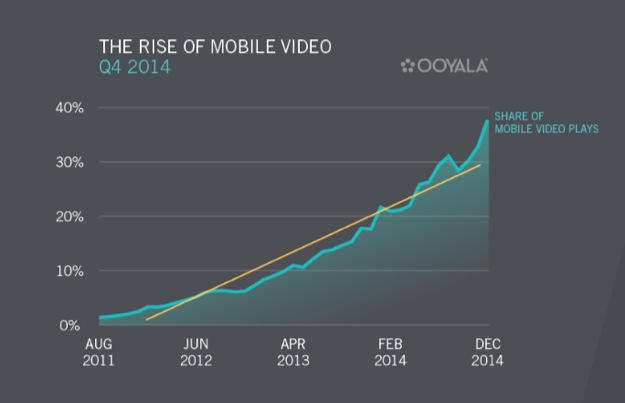 Tablets in particular, are emerging as the device of choice for longer-form content, with 70% of all video watched on tablets longer than 10 minutes, the highest of all devices measured by Ooyala. No surprise, short-form (10 minutes or less) is the favorite on smartphones, with 54% of time spent watching video on smartphones being short-form. Also no surprise is that videos that are 60 minutes or longer do the best on connected TVs, with 41% of time spent on CTVs on this length.

Ooyala has begun sharing video ad data for Europe as well, via its October, 2014 acquisition of London-based video ad tech provider Videoplaza. For December, 2014, desktop accounted for the most pre-roll video ad impressions, followed by smartphones and tablets. Desktop also had the highest fill rate (80% for broadcaster and 69% for publishers). Finally, ad completion rates were relatively comparable across devices, with tablets at 83%, desktop at 79% and mobile at 76%.