Thursday, April 29, 2010, 3:46 PM ET
|
Online video viewing rebounded to 31.2 billion total streams in March '10 according to comScore's newly-released numbers. The March total marks an 11% increase in streams over February's 28.1 billion. As I wrote a couple of weeks ago, it also continues a leveling-dipping-rebounding pattern that has occurred in the Dec-Mar months for the last 2 years as shown in the chart below. If the pattern holds, we'll see strong growth for the next 6 months or so.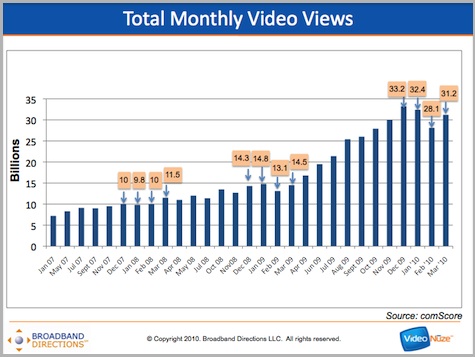 As always, YouTube was the top video site by a wide margin. In March it notched 13.1 billion views, up 10% vs. February's 11.9 billion. Its share was down just slightly to 41.8% from February's 42.5%. Still, it was the 21st consecutive month that YouTube's share has been plus or minus 2-3 percentage points of 40%, a remarkable run.
Hulu also bounced back strongly in March, recording its best month to date with 1.070 billion streams, up 7.5% vs. February's 912.5 million. But with Hulu viewers averaging 156 minutes, the minutes per viewer in March actually slipped to 5.84 from 6.18 in Feb. Hulu's average minutes has stayed stubbornly around 6 minutes for over a year now. In addition, total unique viewers came in at just over 40 million. As I've pointed out in the past, Hulu's viewership has been stuck around the 40 million mark now for a year. Absent a radical change, it seems that neither one of these metrics will break out of their respective range any time soon.
Lastly, on the ad network site, Tremor Media, which earlier this week announced a $40 million financing, saw its reach increase to 96 million viewers.
What do you think? Post a comment now (no sign-in required).