Wednesday, December 3, 2014, 9:41 AM ET
|
Nielsen has released its Q3 '14 Total Audience report (which is the new name for the previous quarterly Cross-Platform report), the highlight of which is the marked reduction in linear TV viewing across every age group except 65+, with an accompanying surge in online video. I charted the new Q3 '14 data vs. Q3 '13 data below.

The big quarter-vs-quarter change that pops out is the 19.2% reduction in linear viewing per week by adults 18-24. This age group is now watching 17 hours, 34 minutes per week, which is 4h, 11m less than the 21h, 45m a year ago. While this group increased its online video usage by 20.7%, that only accounted for 25 incremental minutes per week.
The next biggest reduction in linear viewing was by adults 25-34, which dropped by almost 3 hours per week, or 11.4%. This group's shift to streaming only accounted for 34 incremental minutes per week, which was an increase of about 28% quarter-vs-quarter. Teens' linear viewing fell by almost 11% quarter-over-quarter, with a 5 minute increase (23.8%) in online video use.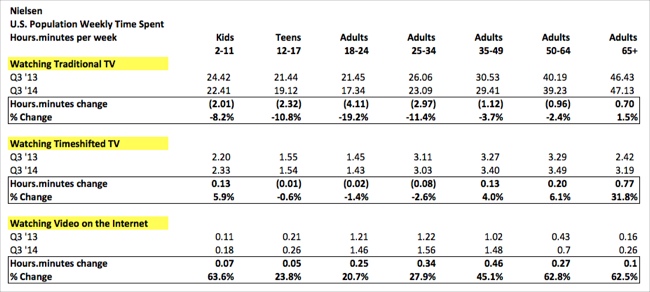 There has been a lot of attention paid recently to the idea that SVOD viewing is now substituting overall for linear TV viewing, rather than augmenting it, and the new Nielsen data certainly seems to corroborate this. The shift has profound consequences not just for TV networks, but also for advertisers, agencies, content creators and others.

Note that Nielsen's SVP, Client Insights, Dounia Turrill, who oversees the Total Audience report, will be on our opening session at VideoSchmooze tomorrow morning. We'll dig into all of the details. There's still time to register - I hope to see you there!