Tuesday, February 11, 2014, 10:16 AM ET
|
Nielsen released its latest Digital Consumer Report yesterday, finding among things, that 52% of broadband-only homes in the U.S. are in the 18-34 age range. Nielsen notes this group accounts for fewer than 5% of total U.S. households, but believes it's important to understanding the future digital living room. Nielsen said 80% of this group owns game consoles and 41% tablets, both twice the rate of traditional TV households.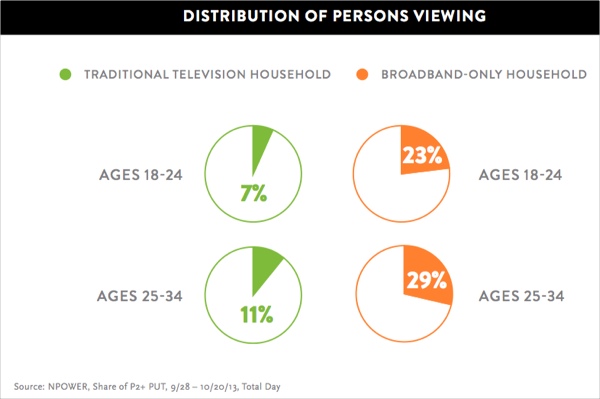 Putting the Nielsen data in context, last October, Leichtman Research Group found that 9% of all U.S. homes were now broadband-only, basically flat over the past 3 years. LRG didn't break out the motivations for broadband-only homes in 2013, but in prior studies found that just 5% did so because they viewed OTT viewing as a bona fide alternative to pay-TV. Many more cited lower cost or lack of interest in TV as the main reasons for not subscribing to pay-TV.

Still, Nielsen's underlines the concern that younger people in particular are at risk of becoming "cord-nevers" - consumers who adopt a pattern of watching online only and then never see the need to subscribe to pay-TV as they get older. Though much has been written about the risk of "cord-cutting," the reality is that changing behavior among younger viewers, and the rising cost of pay-TV, make cord-nevering a bigger industry challenge.

Nielsen also found that the average American now owns 4 devices and spends 60 hours a week consuming content. 38% of Americans say they subscribe to Netflix, up from 31% in 2012. Desktop is still the most popular way to watch Netflix, with 44% citing it, followed by smartphone (23%), Smart TV (17%), connected computer to TV (16%) and tablet (15%).

In addition, Nielsen said 84% of smartphone and tablet owners reported using their device as second screens while watching TV, with tablets dominating for all use cases except emailing/texting. The most popular second screen activities for tablets were surfing the web (66%), shopping (44%), looking up info on actors/plotlines/athletes (41%) and checking sports scores (29%).