Thursday, March 9, 2017, 12:11 PM ET
|
Connected TV device penetration and usage are continuing to grow according to new data from Nielsen as of January 31st. Overall, Nielsen found that 23% of TV homes now own an Amazon Fire TV, Apple TV, Google Chromecast or Roku, up from 19% in June, 2016. Nielsen didn't specify the exact share for each device, only saying that Roku and Apple TV have the highest penetration, with Fire TV and Chromecast following.

In addition to the "big 4," another 11% of TV homes have other brands of connected TV devices or have their computers/tablets/smartphones connected to their TVs.
In addition, Nielsen said smart TVs, which are Internet-connected, are in 29% of TV homes, up from 22% in January, 2016. Another 42% of TV homes own an Xbox, Wii or PlayStation, comparable to the year-earlier level.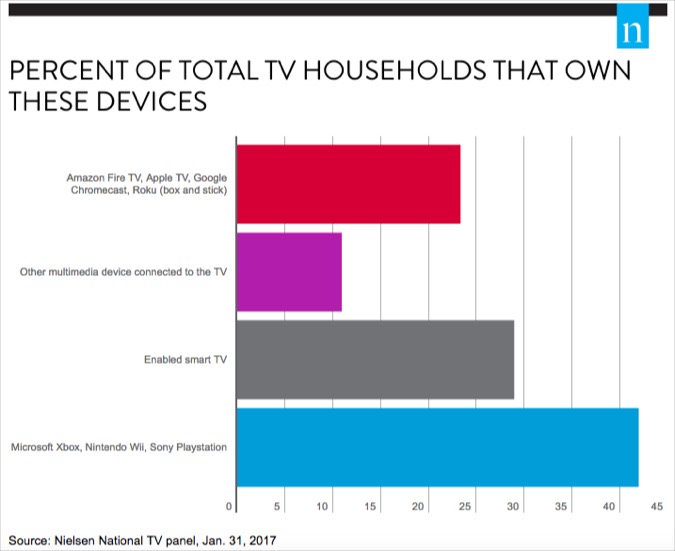 One thing that Nielsen didn't reveal is how much duplication of ownership there is across devices in TV homes, or what overall percentage of TV homes have at least 1 device, both of which would have been valuable. Almost a year ago, Leichtman Research Group found that 65% of TV homes had at least 1 TV set connected to the Internet, up from 44% in 2013. 74% of homes with a connected TV device had more than 1 device as well.

Nielsen also found that the gaming devices were used most extensively, by 31%, or 37 million homes, in January, for over 15 days and more than 4 hours per day. But these numbers are skewed higher because they include game playing as well as video viewing.

For pure video viewing, the big 4 are most popular, with 21 million of the 23 million homes that own one using them in January for almost 15 days during the month. On days they were used, viewers watched over 3 1/2 hours on them. By comparison, other connected TV devices saw an average of 11 days of use and just 2 hours per day of viewing during January.

Apps in smart TVs were used over 20 days in January, but usage of them was only 2 hours per day.

The Nielsen data provides further evidence of how connected TV devices are leveling the playing field in the living room between traditional pay-TV services and new SVOD and OTT services. In particular, the big 4's ease of use and relatively low price points have helped quickly make them a mainstream consumer device.