Thursday, February 17, 2011, 9:42 AM ET
|
U.S. newspapers uploaded approximately 2.4 million videos in 2010, more than 3x the volume of the next-closest industry verticals of broadcast and online media, according to the latest "online video & the media industry" report from Brightcove and TubeMogul for Q4 '10. Newspapers uploaded 1.2 million titles in Q4 alone, a 147% increase in volume over Q3. The accelerating trend suggests newspapers are deepening their commitment to online video as a way of boosting online engagement and increasing ad revenue. The new data also seems to offset recent news that newspapers are reducing their involvement with online video.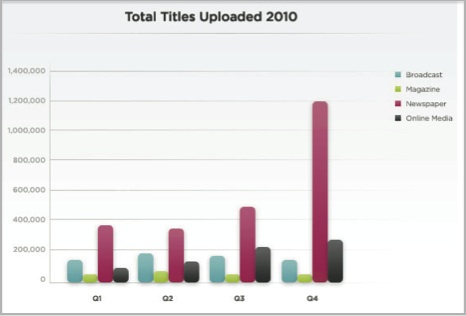 Despite newspapers' lead in total volume of videos, the broadcast vertical led in total minutes streamed, with 1.7 billion in 2010. Newspapers' videos are typically short clips whereas broadcasters' are longer-form programs. For Q4, broadcasters edged out newspapers for total minutes viewed, reversing newspapers' lead from Q3. The report attributes broadcasters' Q3 dip as being due to them being in summer reruns, while newspapers made hay out of newsworthy (and video friendly) stories like the World Cup, Pakistani floods and Chilean miner rescue.
The report also notes that engagement times for all media verticals continue to grow. In particular, brand-created videos nearly doubled their average minutes viewed from 1:03 minutes in Q3 '10 to 2:03 minutes in Q4 '10. Broadcasters, with their full-program availability continue to lead in average minutes viewed per stream. Completion rates also climbed and both online media and broadcasters both exceeded 50% average completion rates, the first time that any media vertical has accomplished this milestone in a quarter.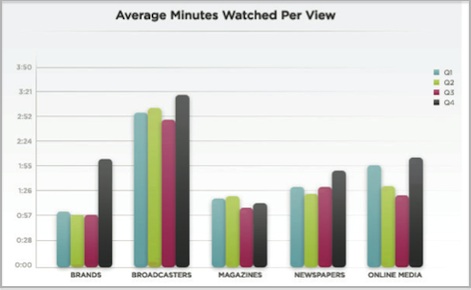 Lastly, Google remained the dominant referrer of traffic for online video, but Facebook bumped out Yahoo in Q4 for the number 2 spot. Facebook continues to notch the highest growth rates, which the report attributes to support for embedded, in-stream playback.
All in all the new report is yet another encouraging sign of the depth and breadth of online video usage, and its continued upward trend. As more people discover the benefits of viewing online, and connected devices bring online video experiences to the TV, these numbers are bound to further increase.
Data for the report was taken from an anonymous cross-section of Brightcove customers across media industry segments and brands and TubeMogul's analytics of this data. It is meant to be directional, not statistically representative of the entire industry or of Brightcove's whole customer base.
What do you think? Post a comment now (no sign-in required).