Wednesday, April 8, 2015, 10:34 AM ET
|
Strategy Analytics has released the results of a new survey which validate Amazon's decision to bundle Prime Instant Video with free 2-day shipping in its Amazon Prime service. Although Prime members say they're more likely to subscribe to Prime for the shipping benefit than for the videos, once they have the Prime service, they watch the videos almost as they much as they use their Netflix subscriptions.

The survey revealed that 59% of U.S. Amazon Prime members used Instant Video in the past month, almost at parity with the 63% of Prime members that used Netflix. Overall, the survey found that 36% of Prime members only used Instant Video, almost equal to the 40% that only use Netflix, and the 23% that use both. The 40% of Netflix-only's are clearly a huge target for Amazon to pursue as it builds out the Prime Video benefit.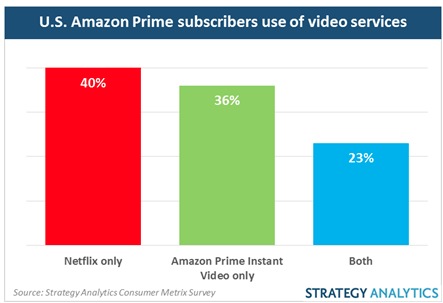 Stepping back, I think the data should be read as very encouraging to Amazon. Rather than launching a standalone video subscription service, Amazon included video as a bonus to drive Prime membership. A recent analysis indicated that Amazon now has 40 million U.S. members who spend $1,500 per year vs. $625 per year spent by non-members, demonstrating how important Prime has become to the company.

The fact that Instant Video usage is already almost at parity with Netflix among Prime members comes despite the fact that Netflix has been streaming longer, has a deeper catalog, has scored with at least 2 big originals ("House of Cards" and "Orange is the New Black" among others), has a value proposition specifically in video and has one of the best UIs around while Instant Video still remains sub-optimal.

As Amazon further beefs up its original offerings, licenses more popular content, raises awareness among Prime members for its video and improves its UI, usage will no doubt increase further. This in turn will create stiffer competition for Netflix and all other standalone OTT services.