Thursday, September 15, 2016, 11:53 AM ET
|
New research from consulting firm Altman Vilandrie & Company highlights the major challenges that current and pending "skinny bundles" face. Skinny bundles - which are scaled down, customized and less expensive groups of TV networks - have become a hot industry topic, and are perceived as valuable in pulling cord-cutters and cord-nevers back into the pay-TV ecosystem.

But AV&Co.'s 7th annual consumer video survey, which is the most extensive research that I've seen yet into the prospects for skinny bundles, paints a picture of how narrow the opportunity may in fact be. VideoNuze readers know that I've been very skeptical of skinny bundles, whether from Sling TV, PlayStation Vue or soon Hulu and DirecTV Now. The AV&Co. research largely confirms my concerns (see here and here).
The issues I've pointed out are that in slimming down the number of available TV networks, skinny bundles quickly become like "Swiss cheese," with the absence of key networks diminishing the bundle's appeal. Even the ability to include some networks and not others is governed entirely by the big TV network groups' willingness to deviate from longstanding policies of selling the biggest possible bucket of networks to increase affiliate and advertising revenues. But obviously the more networks that ARE included in the skinny bundle, the higher its underlying costs, which in turn drives the retail price higher in order to generate a decent margin. The higher the retail price, the lower the skinny bundle's consumer value proposition of cost savings.

Even though the pay-TV industry is deeply concerned about cord-cutting and cord-nevering (which, in reality, are still relatively tame), their willingness to part with the norms of the business are still justifiably restrained. Nobody wants to be Chicken Little and disrupt a highly-profitable business that still has over 90 million American households subscribing every month.

The AV&Co. research synchs with other industry research showing that most households watch between 14-21 different networks in a typical week.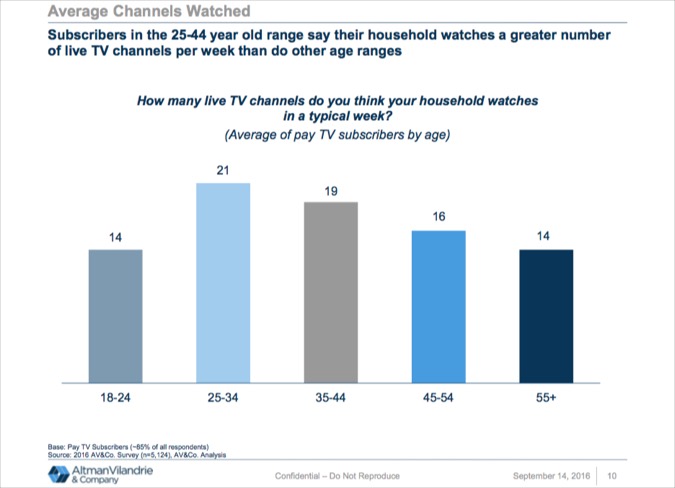 Despite the limited range of networks respondents ACTUALLY watch, when presented with a list of 150 different networks across 17 genres, their perception of how many networks they NEED is much greater. As the chart below shows, respondents said that 20-42 networks were "must haves" - nearly double the number they watch, with dozens more in the "somewhat interested" category. The difference highlights a key value of today's multichannel bundle - knowing that network is accessible, even if you may only rarely watch it (for me this is FX - I only care about having access to "The Americans").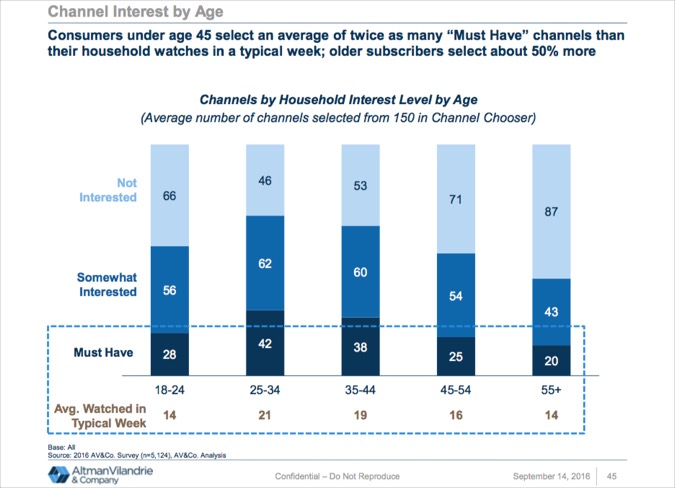 Using a simulator AV&Co. developed, every single network was selected as a "must have" by at least 5% of respondents. If you've ever skipped through the dial and wondered about the appeal of say, World Fishing Network, UniMas or Shorts TV, each in fact has a sliver of dedicated fans. Meanwhile, at the other end of the spectrum, the research found that just 3 networks (ABC, CBS and NBC) were considered "must have" by more than 50% of respondents.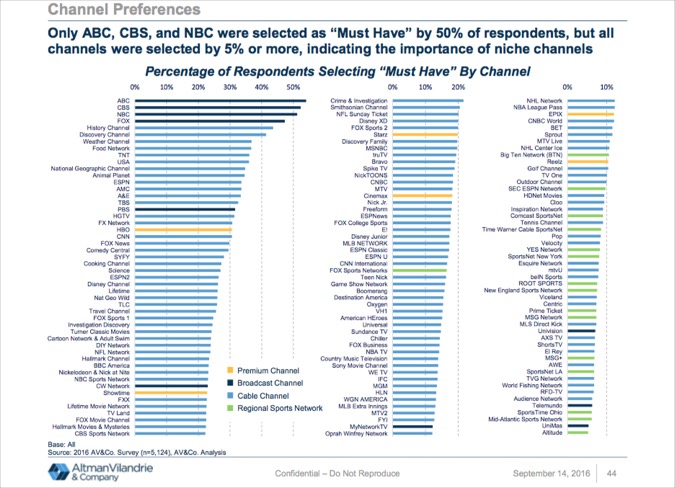 As if all that wasn't enough, when AV&Co. had respondents do a "MaxDiff" ranking of specific network priorities a big schism between male and female respondents in the 25-34 year-old range (a key cord-never skinny bundle target segment) emerged.

More than a third of the top 30 networks each gender selected were not common. For example, men chose ESPN as their top choice (no surprise), while it didn't even make the women's top 30. On the other hand, women rated Food Network at number 6, but it didn't crack men's top 30. In fact, the only 2 networks to be in both genders' top 5 priorities were HBO and FOX. These preferences show how hard choosing a skinny bundle would be even in just a two-person household, never mind when kids are in the mix too.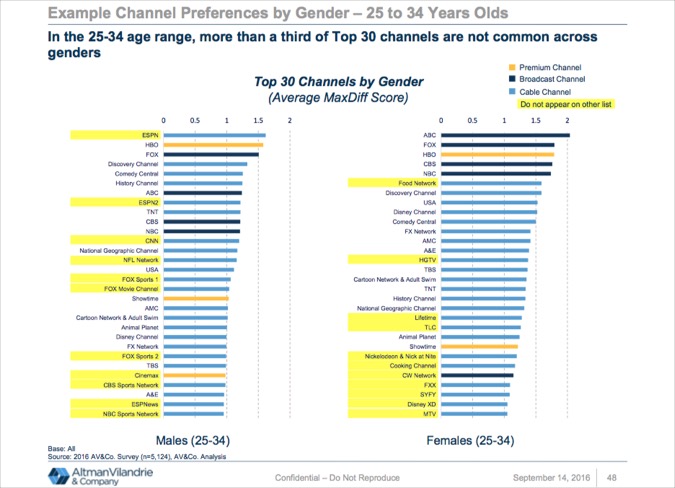 More broadly, the data highlights the Swiss cheese problem skinny bundles quickly encounter. By definition, niche channels are unlikely to make the cut for a skinny bundle (or if they do, they'll be in add-on packages that drive up the cost). And the big broadcast networks, which are virtually essential to any skinny bundle's success, are among the most expensive to carry, which in turn drives up the retail rate. Note that another important issue for skinny bundles is successfully negotiating carriage with the numerous owners of local broadcast TV channels in order to serve a national footprint.

It's no surprise that when AV&Co. used the simulator to generate scenarios of different skinny bundle offers and measure their potential take rates, adoption was only in the low single digit percentages for a $50-70 per month service with around 75 networks. Applying this to the universe of U.S. homes implies the upside opportunity is likely less than 5 million subscribers for such a service, a fraction of the nearly 50 million subscribers Netflix already has in the U.S., for example.

The AV&Co. data confirms a lot of my skepticism about the real potential of skinny bundles. Between viewers' diffusion of interest among dozens of networks, the Swiss cheese problem, constraints on packaging networks and high underlying costs leading to relatively high retail rates/low cost savings, skinny bundles have many issues to balance.

It's also unclear who the real target for skinny bundles will be. Cord-nevers would be required to dramatically raise their monthly spend on video to get any real utility. Cord-cutters would likely do better to simply taking a video service from their broadband provider in a discounted package - it will likely cost about the same and give them far more networks. And then as AV&Co. points out, there's the additional risk of siphoning existing price-sensitive pay-TV subscribers over to skinny bundles.

I completely understand that TV networks view skinny bundles as a new option for cord-nevers and cord-cutters, to help pull them back into the pay-TV ecosystem. A segment of the market will no doubt be drawn to skinny bundles. And given all of the instability in the TV and video industries, there's real value in innovating and testing new ideas, especially those enabled for the first time by technology. But if anyone thinks skinny bundles are going to be the next big thing, I believe they'll ultimately be disappointed.

Aside from skinny bundles, the AV&Co. research also has great data on viewing behavior, password-sharing for SVOD services and TV Everywhere usage. If you want to learn more about the AV&Co. report, the point of contact is Jonathan Hurd, the firm's partner who oversaw the research.