This past Tuesday I highlighted some of Nielsen's recent data which showed, among other things, significant online and mobile video usage by younger age groups. In that post I noted that marketers need to pay close attention to these trends to ensure their products and services meet these users' needs and expectations.
New research from The Diffusion Group (a long-time VideoNuze partner) provides a window into how users think about accessing video across multiple screens, and who the providers might be. TDG has recently completed a survey of 2,000 adults (18 or above) which tested interest in two-screen and three-screen services along with content and features. TDG has graciously provided a sample of the slides for complimentary download by VideoNuze. You can download the slides here.
TDG defined a three-screen service as "a single video service which feeds all your household TVs, PCs and mobile devices, for a single monthly fee, from a single service provider, and with relatively equal content, variety and quality of service for all three devices."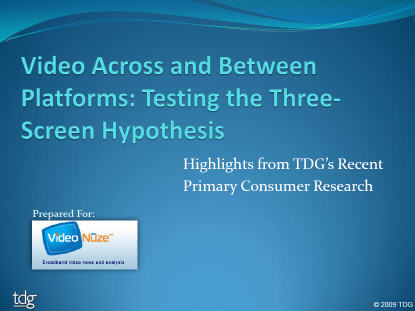 TDG found that almost 25% of those surveyed responded positively to such a package. Whereas video marketers would have traditionally considered heavy TV viewership (25 hours/week and above) to be the most important criterion for driving more video services adoption, these so-called "three-screen intenders" don't exhibit heavier TV viewership than non-intenders (though they're slightly higher in moderate viewership, 11-25 hours/week).
Rather, the behavior that distinguishes three-screen intenders is how much online viewing they're doing. The intenders are far higher consumers of online video in general, and of online TV programs in particular. In other words, their behaviors are already self-selecting them as the targets for a three-screen service offering. That of course makes it much easier for marketers to find and target them.
All of this certainly supports Comcast's and Time Warner Cable's recently revealed plans to offer their video subscribers online access to programs. Better news still for these companies is that TDG found that cable operators were the top choice by intenders as the preferred three-screen provider. Cable was chosen by 31.7% of intenders, almost double the amount that selected satellite operators. Translation: there is a sizable group of consumers interested in three-screen services and cable appears to be in the prime position to capitalize on this.
Of course, the next question then is whether cable operators should charge for these services or imitate Netflix's example with Watch Instantly by including them as a value add to existing digital services. In my opinion, at least some of the online viewing capability should be included for no extra charge. That would go a long way toward establishing loyalty, and position cable for even greater competitive gains.
Click here to download the complimentary slides.
What do you think? Post a comment now.