Tuesday, November 19, 2013, 10:03 AM ET
|
According to a recently released study by the Association of National Advertisers (ANA) and Nielsen, multi-screen advertising will grow from 20% of advertisers' budgets today to nearly 50% in the next three years. While 48% of respondents said they believe multi-screen campaigns are very important in effectively delivering marketing messages, almost twice as many (88%) believe that these types of campaigns will be very important in three years.

One of the biggest issues for multi-screen advertising is measurement due to a huge gap between existing measurement approaches and how respondents would prefer to measure integrated multi-screen campaigns. 71% of survey respondents said they use a variety of metrics specific to individual screens, but 73% said they would prefer to use just one set of metrics across all screens.
When asked what specific metrics they would like to use, respondents identified the need to determine if the advertising was delivered to the desired audience – using reach, frequency, and GRPs (66%) – and whether the advertising produced the desired effect – using brand lift metrics to assess awareness, likeability, and purchase intent (67%).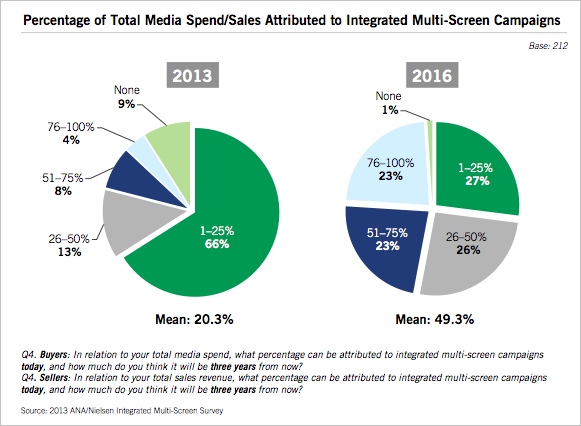 Additionally, 71% of those surveyed said that are not currently managing multi-screen campaigns in a fully integrated manner, which means they are currently being tracked separately across different screens.

Other interesting results from the survey include more need for multi-screen measurement, such as consistent methodology across media (73%), real-time measures for optimization (69%); and the ability to understand the competitive landscape (69%). Many respondents are also expecting a shift from regular TVs to connected or Smart TVs in the future, as well as a decline in PC and laptop usage and an increase in mobile devices like smartphones and tablets.

The survey included 274 respondents as follows: 119 client-side marketers drawn from the ANA membership, 80 media sellers and 75 agencies drawn from a proprietary Nielsen database. The respondents have an average of 17 years of experience in the industry. The survey was fielded in July and August of 2013. ANA and Nielsen will be hosting a webinar this Thursday, Nov. 21st to discuss the findings.

The full survey results are available for download from the ANA and Nielsen.