Wednesday, October 29, 2014, 5:44 PM ET
|
Media, finance and automotive brands continue to lead online video advertising adoption, according to new data from MediaRadar. In October, 2014 the product categories were first, second and third respectively, just as they were in October, 2013. MediaRadar found an increase in the number of brands placing online video ads in all 10 of the product categories it measures.
In total, 4,207 different brands placed online video ads in the past year, with many just starting to adopt and the number in any given month fluctuating depending on the season.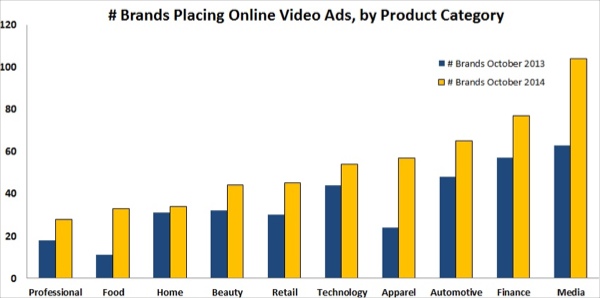 MediaRadar also found that 15-second ads increased their market share from 33% in October, 2013 to 42% in October, 2014, with 30-second ads remaining consistent at 33%. By comparison, recent data from Videology found that 15-second ads in Q3 '14 increased to 64%, with 30-second ads dropping to 35%. MediaRadar also found that ads longer than 60-seconds now account for about 11% share, with other odd durations (less than 15 seconds, 16-29 seconds, etc.) each in single digits.

MediaRadar collects data from 130 different web sites that are running online video ads (not including YouTube). Another interesting data point the company found was that nearly 95% of video ads auto-started once the user landed on the web page. Skipping ads is also virtually impossible with just .2% of 15-second ads including a skip option and 10.7% of 30-second ads including one.