Monday, June 27, 2016, 10:29 AM ET
|
The use of connected TVs and mobile video continues to increase, particularly among younger audiences, according to new data from Frank N. Magid Associates.

Connected TVs were used by 74% of respondents vs. 59% in 2015 Magid research. Video game consoles continued to have the highest share at 33% (up from 30% in 2015), but the biggest increases were recorded by Internet streaming devices (31%, up from 20% in 2015) and Smart TVs (26%, up from 16% in 2015). 42% of respondents said they now have a Smart TV, up from 25% in 2015 and just 17% in 2013 as falling prices have steadily fueled purchases.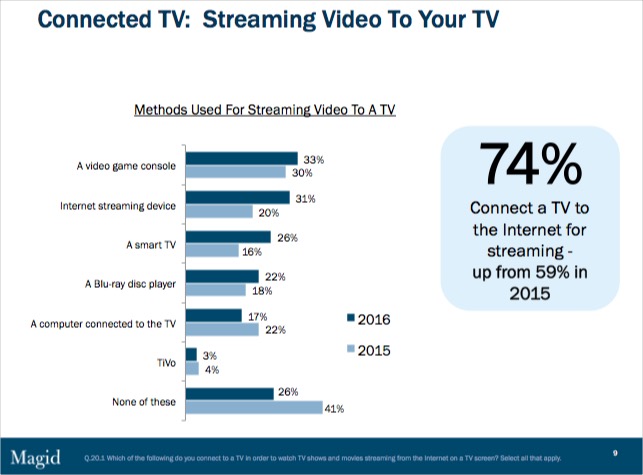 But Smart TVs lag smartphones when it comes to frequency of usage. Magid found that 46% of respondents with a smartphone watched video at least once a day on the device, with heavier use among 18-34 year-olds and males. That compared to 39% watching video on a computer at least once per day, followed by tablets (30%), Connected and Smart TVs (18%) and gaming consoles (13%).

No surprise, the biggest beneficiaries of mobile video viewing are YouTube and Facebook. 85% of mobile video viewers said they used YouTube to watch on their smartphones, with Facebook next at 63%, followed by Netflix (45%), Instagram (38%), Twitter (28%), Snapchat (27%) and Periscope (8%). The numbers for tablet viewing were comparable, with Netflix still in third, but with a 57% rate of use.

Meanwhile, Magid also found relatively low and stable interest in cord-cutting, with just 7% saying they were "extremely likely" to cut the cord and 47% saying they were "not at all likely" with both levels consistent from 2015. Magid found that 56% of those with any inclination to the cut the cord cited OTT video as the reason to do so.

Respondents said the top sources for paid streaming of TV shows and movies was Netflix (cited by 58%), followed by Amazon (34%), Hulu Plus (20%), HBO Now (16%), Apple TV (9%) and somewhat surprisingly, YouTube Red (7%). Top free sources for TV shows and movies were YouTube (40%), Hulu (20%), ABC.com (19%), CBS.com (15%) and Crackle (13%).

Overall, 40% of respondents said they'd prefer to pay for subscriptions to watch long-form content on connected TVs (up from 32% in 2013), with free, ad-supported as a preference falling from 50% to 44% in the same time. Millennials led the way on the paid subscriptions preference, with 44% seeking paid options vs. 39% for ad-supported. Boomers had the highest preference for ad-supported, with 52% preferring it, vs. just 34% for paid subscriptions.

Magid's State of the Video Entertainment in the U.S. research included 1,600 U.S. online consumers, ages 8 and older and was conducted in March, 2016. It was presented at VidCon by Mike Vorhaus, President of Magid Advisors. I have uploaded the full research presentation to SlideShare.