Tuesday, October 20, 2015, 10:42 AM ET
|
Magid has released new research commissioned by Watchwith finding that in-program native video ads have higher levels of unaided ad recall and improved brand metrics vs. traditional TV ads.

Watchwith recently unveiled the in-program native ad format which is an interactive overlay placed on a TV program streamed to a desktop, mobile device or connected TV. The ads can be contextually relevant to the underlying program itself using frame-by-frame metadata. Watchwith is positioning these ads as creating new, high-value inventory for TV networks to monetize their streamed TV programs.
For the Magid research, 600 viewers age 18-49 years-old were recruited to watch a 30-minute episode of "Best New Restaurant" with ads for Buick included. A control group of 200 viewers saw just traditional TV ads. Another 200 saw in-program native ads with interactivity. A third group of 200 saw in-program display ads (also an overlay format, but smaller and without the interactivity).

Per the below chart, the in-program native ads had a 19% unaided recall for 18-49 year-olds vs. 14% for traditional TV ads. For just 18-24 year-olds, the in-program native ads had a 20% unaided recall vs. 8% for traditional TV ads.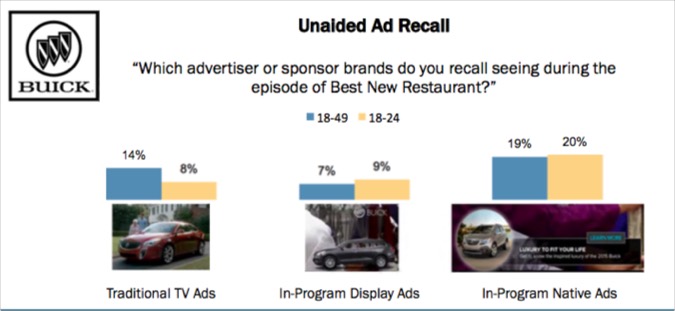 In-program native ads also performed well on brand metrics. They outscored traditional TV ads and in-program display ads for brand familiarity, brand opinion, intent to purchase and likeliness to promote the brand to friends and family.

18-24 year-olds in particular seemed to have a favorable impression of in-program ads, with over half saying they're more likely to watch other episodes, watch a show longer and recommend a show to others if there are in-program ads. Overall, 47% of viewers assumed that in-program ads were interactive vs. 11% for TV ads.

Watchwith's CEO Zane Vella told me he's encouraged by the research. While still early days, it helps demonstrate how in-program native ads can be an effective augment to traditional TV ads for streamed TV shows. Especially for touch-oriented mobile devices, the interactivity of in-program ads also provides new value beyond branding for advertisers.

Zane also noted last week's WSJ article how product placements are down 45% vs. last year during the first week of the new broadcast season, continuing a downward trend, partly due to the high cost of integration. Zane sees in-program native ads as offering a highly-relevant, interactive alternative to product placements, but without the extra content integration expense.

The full research is available for complimentary download here.