Wednesday, September 17, 2014, 5:52 PM ET
|
Industry research firm The Diffusion Group has found that, contrary to conventional wisdom, authentication is not blocking broader consumer acceptance of TV Everywhere services. TDG found that just 7% of TVE users perceive the TVE authentication process as "difficult" to "very difficult" while over two-thirds (68.4%) said it was "easy" to "very easy." Nonetheless, 82% of TVE users said eliminating TVE log-in entirely would be an important enhancement.
Further, just 11% of former TVE users cited authentication as the main reason they no longer use TVE, while only 9% of those that haven't used TVE cited authentication as the reason for not doing so.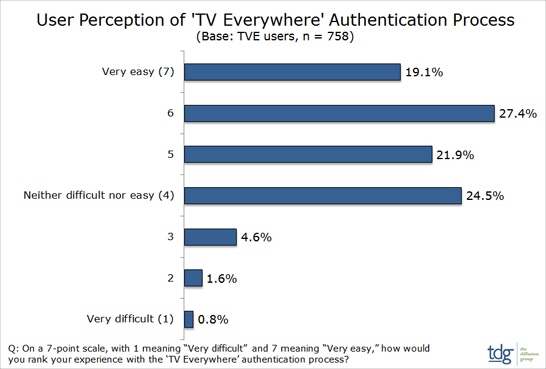 TV Everywhere is a top priority for the pay-TV industry, but authentication - the log-in and verification process a subscriber must follow to gain online/mobile access to TV programs and movies - has consistently been cited by industry executives as one of the key reasons for TVE's slow adoption.

As an example, at the recent Cable Show, Turner Broadcasting's CEO John Martin said "Authentication is a barrier to usage," and in a somewhat lame-sounding disclosure, conceded he doesn't know his own user names and passwords to the 3 different pay-TV accounts he maintains, which is why he doesn't access TVE himself.

It's always been a bit of a mystery why an individual would find it so hard to know their pay-TV log-in credentials, when they seemingly have no problem recalling their Netflix/bank/social media/fill-in-the-blank favorite site's log-in credentials. Echoing this theme, Michael Greeson, TDG's president and director of research, called authentication a "red herring" on which the industry has blamed TVE's lagging adoption.

It's important to keep in mind however, that if a user does try to authenticate, the system must world seamlessly. This is where anecdotal evidence does suggest authentication is a challenge and the finger-pointing begins. I've had my own share of experiences where I entered my credentials but the TVE experience didn't work and/or I was required to enter them for each individual site I visited, a cumbersome process.

TDG's research found that the main issues holding back TVE are poor marketing, inconsistent content choices and somewhat oddly, a lack of interest in watching TV programs on smaller screens. The content issue is a big one in my mind - given rights/fee issues around online distribution, subscribers can easily be confronted with a Swiss cheese situation where certain networks/programs are available while others aren't, with some programs only displaying a few recent episodes with others having full seasons. This easily leads to confusion and frustration.

Despite all of this, TVE is a key initiative for the industry. OTT providers like Netflix, Hulu Plus, YouTube, Amazon and others have aggressively deployed their services to multiple devices, setting a user experience standard for pay-TV operators to follow. When they don't, their TVE services look substandard.