There's been a lot of buzz over the last couple of days about J.P. Morgan's just-released "Nothing But Net - 2009 Internet Investment Guide," including many references to Morgan's distinctly bearish commentary on online video. I'm always interested in what other analysts are saying about video, so I downloaded the document yesterday. Though it's 340 pages, only 2 pages (81-82) are devoted to online video specifically. (And incidentally, as best I can tell, that's 2 pages more than the "Nothing But Net - 2008" devoted to the video industry.)
I have to say I found Morgan's write-up to be quite superficial, with a generally dismissive tone regarding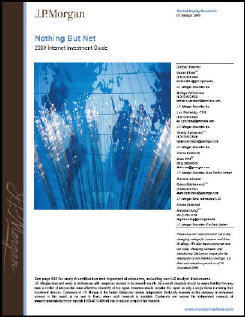 online video's opportunity. Like many Wall Street analyst reports I've previously read, it seems more focused on near-term financial prospects than longer-term strategic opportunities. An investment professional without in-depth knowledge of online video trends who read the report would likely conclude that it's not worth spending much time on online video, at least in the near term. That would be a critical mistake, because, as I've said many times, online delivery is the single most disruptive influence on the video industry today.
Morgan's analysis is strictly focused on the ad-supported model. No attention is paid to broadband's impact on the multi-billion dollar multichannel subscription TV or home video markets which companies like Netflix, Amazon, Apple and others are pursuing with disruptive fervor. As for advertising, while Morgan acknowledges that online video usage has taken off, it believes that "performance-based marketers and brand advertisers are looking at three variables in determining their investment: reach, content quality and performance measurability." In Morgan's view, today's "advertising formats do not appropriately address these three variables."
It's important to note that a key Morgan theme is that performance-based advertising models like search are more desirable than CPM-based models like display, and most video ads today. Morgan believes (and I do agree) that performance and ROI-tracking will become even more important in the down economy where ad dollars are scarce and must deliver real sales results.
Still, the reality is that over time, online video ad dollars are most likely to be shifted from TV, which is a CPM-based medium. And online video ad units offer far greater interactivity than TV ever has. But this still misses a larger point - video is a CPM-based medium because video is the pre-eminent media format to make an impression on a consumer. Nothing packs the same emotional impact as video, and that's why brands have always been drawn to TV advertising. In short, while the overall online ad market is shifting to performance, brands will always need a visual medium. With all the challenges traditional TV has (e.g. DVR-based ad skipping, audience fragmentation, etc.), online video formats that are engaging, non-skippable and interactive will gain in appeal.
Yet Morgan suggests that brand interest will remain quite muted. Paraphrasing the report, it suggests: content providers can't guarantee viewership as they can in TV (though in reality many can and have been doing so for a while now), content providers have a hard time determining pricing (though the CPM ranges for many sites has already solidified), "many video sites are plagued with videos of varying quality and copyright violations" (though outside of YouTube and MySpace, all of comScore's top 10 video sites are premium video-only) and no "ad format seems to be widely accepted by users, publishers or advertisers" (though the IAB published its digital video ad format guidelines back in May '08, and users are now well-accustomed to the kinds of ads to expect in their online video experience).
If brands' interest in online video advertising is so challenged, you wouldn't know it from actual experience. In 10 minutes of random sampling this morning here are ads I saw: Oreos (MTV.com), HP (ComedyCentral.com), Blackberry, Target (Hulu), Gillette, IBM (ESPN.com), Ritz, Sears (ABC.com) and Dunkin' Donuts, Robitussin (Yahoo). I'm not suggesting that the online video medium doesn't have its challenges in attracting brands, but based on everything I continue to hear, the premium video sites in particular - like those cited above - are holding up pretty well even in this environment. Even much-maligned user-generated video may have some unexpected silver linings; just yesterday it was reported that Japanese anime producer Kadokwa Group Holdings is pulling in $110,000/mo from its YouTube channel stocked with user-created material.
Far from being the uninteresting medium that the Morgan report depicts, online video has already become a bright spot for many established content providers whose traditional models are under pressure. It is also opening up new opportunities for new ad-supported entrants. And it is threatening to completely upend the paid part of market through improvements in "over-the-top" technologies and consumer services.
To be sure, the medium is still in its adolescence. But that's all the more reason why savvy investors, entrepreneurs and other market participants who look past cursory industry reports, and instead choose to dig in and understand the massive disruption online video is causing will do quite well in the long term.
What do you think? Post a comment now.