Tuesday, March 9, 2010, 9:59 AM ET
|
comScore released its Jan '10 online video rankings yesterday, and while the numbers were still very strong, they did show declines from Dec '09. For example, in Jan, total monthly views were 32.4 billion, compared with 33.2 billion in Dec '09, a decline of 2.4%. To try to put this blip downward in a little more context see the chart below. I've called out the Dec-Feb period for the past 3 years. In prior years there have been slight to moderate decreases somewhere in this period. This might suggest some seasonality, based on limited historical data.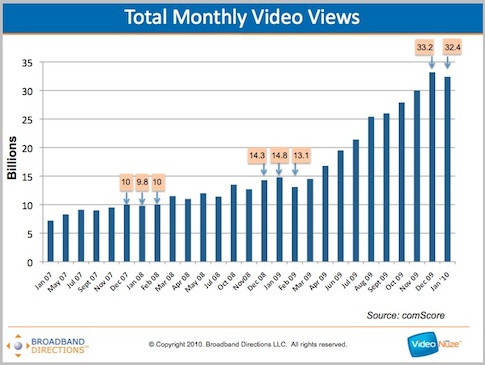 It's also worth noting that over the course of the last 3 years there have been 7 monthly sequential declines in the total monthly video views. Obviously nothing grows uninterrupted forever, and nobody should expect this from the online video market. Still, when you look at the overall growth curve, there can't be too many other Internet activities that have grown as consistently, with the exceptions maybe of social media (e.g. Twitter, Facebook, etc.).
Elsewhere in the comScore stats, YouTube remained the undisputed 800 pound gorilla for another month, once again maintaining its approximate 40% market share (39.4% in Jan to be exact). According to comScore, YouTube's market share hasn't been below 35% since May '08, when total video views were 12 billion. In other words, even as total views have almost tripled, YouTube has consistently held onto its market share. Pretty amazing.
Hulu also had another strong month, notching 903 million views (its 3rd best month) from 38.4 million unique visitors. Still, the unique visitor count tumbled by 13% from 44.2 million in Dec '09 to 38.4 million in Jan (by comparison YouTube increased from 135.8 million unique visitors in Dec to 136.5 million in Jan). As I mentioned recently, I'm looking for evidence that Hulu can expand its U.S. user base beyond the 35-45 million range it's been in for over a year.
One other point worth noting from the Jan data is that Vevo, the music video aggregation site just launched in Dec '09 broke into the top 10 with 32.3 million unique viewers and 226.1 videos viewed. Vevo's rapid growth is further testament to the popularity of music videos online and the continued importance of short-form.
What do you think? Post a comment now (no sign-in required).