Friday, September 11, 2015, 11:01 AM ET
|
Innovid has released its Q3 2015 State of Interactivity Report, based on a survey of 200+ U.S. media buyers in August, which provides insights about their priorities and preferences. Per the chart below, over 92% of respondents said they're currently buying pre-roll video ads, slightly ahead of display. Mobile video was fourth with 85% buying it. Further down in the eighth position was Interactive Video (61%) and in tenth position, connected TV (55%).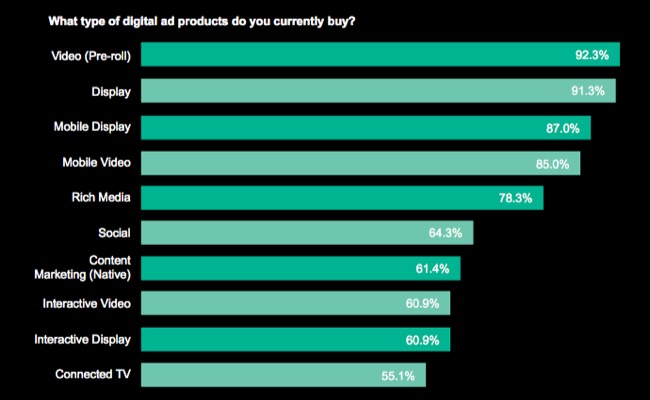 For those currently buying interactive video, Innovid found that 92% plan to renew their spending over the next 12 months. The top reasons cited were "It's proving effective" (46%), "Desire to continue testing it out" (43%) and "More creative ad units" (40%).

Still, Innovid found that the metrics buyers are using to judge the effectiveness of interactive video are similar to pre-roll and therefore don't fully account for interactivity's unique engagement attributes. Innovid found the top 3 measures of effectiveness for interactive video ads were "Completion Rate" (49%), "Brand Engagement" (47%) and "Viewability" (43%). So metrics like user activity, additional time spent with the ad or conversions - all of which are benefits in interactive video ads - have not yet broken through.

Innovid also found rising interest in connected TV advertising as buyers recognized the shift in viewing occurring in living rooms. Innovid found that 79% of current buyers of connected TV ads intend to invest more in connected TV ads in 2016. Of those, however, 60% are unaware of interactive video solutions for connected TV advertising. Earlier this year Innovid partnered with Roku to provide interactive video capability in the Roku Ad Framework.

The full report can be downloaded here.