Thursday, February 9, 2017, 11:54 AM ET
|
Here's a great data point highlighting how TV and online video advertising are converging: new data from Videology revealed that in Q4 '16, 23% of online video ad campaigns utilized TV viewing segments to help target audiences, more than double the 11% rate in Q1 '16, though slightly down from 27% in Q3 '16. Once again, the advertiser's TV schedule was the top TV segment used.

As always, demo (used in 100% of campaigns), geo (85%) and behavioral (54%) were the most used data types for targeting video ads, but the increasing use of TV segments shows how advertisers are looking at video ads more holistically, converging them with TV ads to extend the value and ROI of their overall ad spending.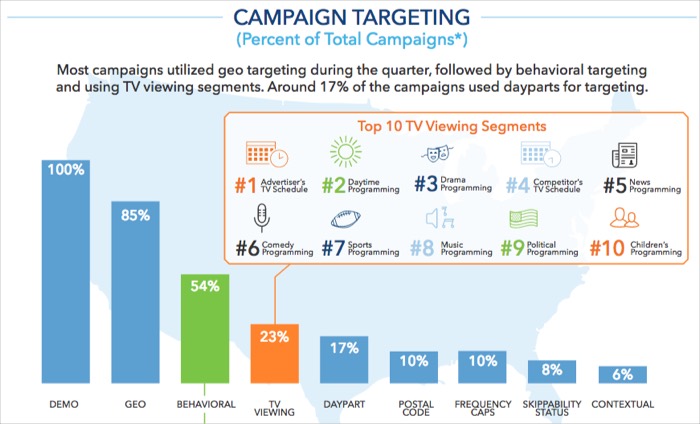 View thru rate was the top campaign objective for 42% of campaigns, followed by viewable rate at 31%. The MRC standard of 50% of pixels on screen for at least 2 consecutive seconds was the standard metric for 90% of advertisers choosing viewability as their top objective.

Videology also found rapid growth in the use of advertiser's first-party data for targeting TV ad campaigns. In the 2nd half of 2016, 28% of campaigns used this type of data, which can include past purchase history, web site visits, registration/loyalty data, etc. Videology leverages its integration with Nielsen to allow clients to tap into their first-party data.

The use of first-party data fits into the multi-quarter theme Videology has been reporting on of steadily growing spending on targeted linear TV campaigns. From Q1 '16 to Q4 '16, Videology experienced 273% growth in linear TV spending. This was partly enabled by an 840% growth in linear TV ad impressions available for data-driven or programmatic buying.

An infographic summarizing all of this data and more can be found here.