Thursday, May 8, 2014, 10:35 AM ET
|
In a significant sign of how quickly the market has evolved, the IAB released new research with GfK showing that regular monthly online video viewers prefer online originals to TV news, sports and daytime programming. In addition, online originals are enjoyed almost as much as primetime TV programming. The chart below shows the data - it is a little difficult to understand, but the conclusions are clearly articulated.

The data was presented at the IAB's NewFronts Insights lunch yesterday, which I attended. The lunch included 5 research presentations from BrightLine, Tremor Video, Unruly, Visible Measure and YuMe.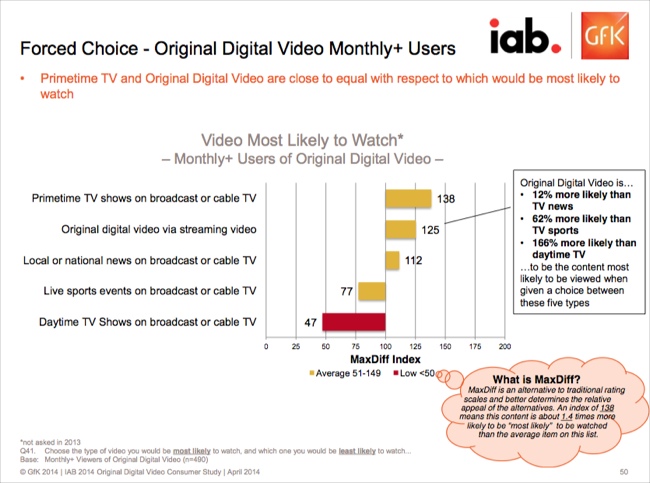 The IAB research found that approximately 52 million Americans (22% of the population) now watch some original online video each month, a 15% increase vs. 2013. The top reason respondents gave for why they watch online originals was ability to watch on own schedule (41%), followed by getting drawn in after clicking on a link (27%) and like watching content not available on TV (25%).

The research also found that watching online originals is still a largely unplanned activity, as compared with other types of online video and TV. 57% of respondents said they watch "whatever online original attracts me at the time," while for prime-time TV planned viewing was 43%, followed by Sports (42%), daytime TV (28%) and News (27%). Watching TV shows online had the highest planning behavior for online video, at 41%.

The unplanned nature of watching online originals ties to how their discovered. More than half (51%) of respondents cited "word of mouth" as the way they learn about online originals, followed by "social media" (41%), "clicking on links I stumble on" (29%) and "ads" (28%). At home (87%) is by far the dominant location online originals are viewed.

The unplanned nature of watching online originals also fits with how they're perceived as a spontaneous, a "break," for solo viewing and highly controlled. Comparatively, TV is seen as planned, a commitment, for co-viewing and no control.

Computers are still the most-favored viewing device, with 72% citing them. However the popularity of other devices surged in the past year: connected TVs cited by 48% (up from 27% in '13), then smartphones cited by 46% (up from 26% in '13) and tablets cited by 41% (up from 23% in '13).

Certainly the flexibility of watching online originals should be something the pay-TV industry takes note of. While TV Everywhere initiatives are meant to increase convenience and on-demand viewing, to the extent they lag, online originals are able to differentiate themselves.

The new IAB report follows research from last week which found that ad buyers' interest in TV and online video is now at parity for their most important product/service campaigns.

The full report is available for complimentary download here.