Monday, April 28, 2014, 7:52 PM ET
|
As the Digital Content NewFronts gear up this week, IAB has released a study of agency and brand buyers, which, among other things, finds that interest in TV and online video advertising is now basically at parity. When asked how they would allocate their ad spending for their most important product/service, respondents' preference was 51% for TV and 49% for video. As shown in the below chart that compares with 58%-42% in 2012.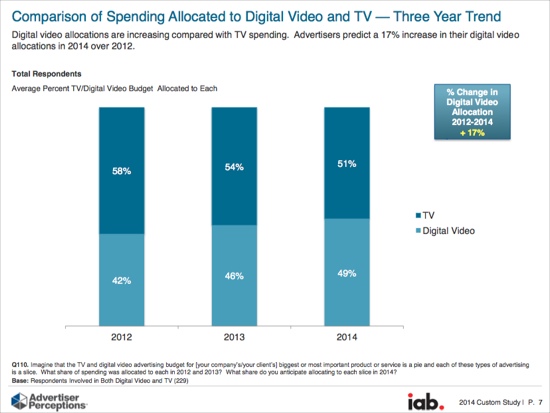 Nearly 2/3 (65%) of respondents anticipate online video spending to increase in the next 12 months vs. 39% expecting an increase in TV ad spending. In fact, the biggest contributing factor (cited by 67% of respondents) to increased online video budgets will be a shift of dollars away from TV, followed by an overall expansion of budgets at 48%.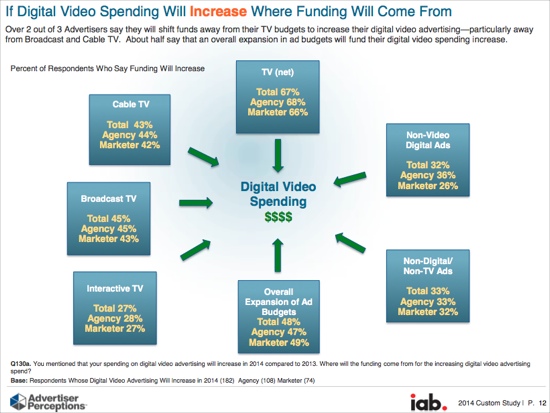 In a sign of how original online video is expected to mature, 75% of respondents see it beginning to become as important as original TV programming in the next 3-5 years. 79% said they'd be more likely to advertise on original online video if there was research proving it was as good as TV at driving sales and branding. Respondents see allocating 48% of their online video advertising to original online video, up from 44% in 2012.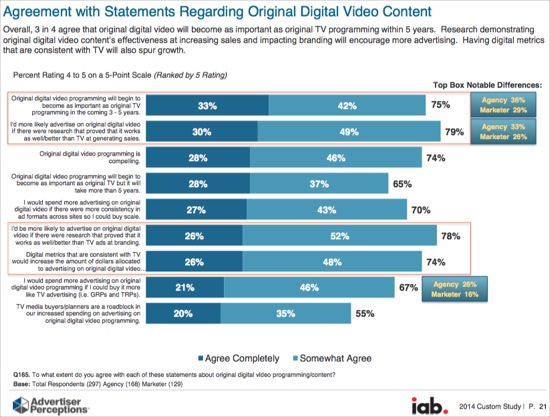 The Digital Content New Fronts appear to be helping drive some of these improved perceptions. Approximately 90% of respondents have a modest-to-solid understanding of the NewFronts, with 81% of those who are aware saying they plan to attend this year, up from 33% in 2012.

Respondents anticipate 38% of their online video spending in 2014 will be due to the NewFronts, up from 32% in 2012, with 90% saying their participation in last year's NewFronts resulted in more spending on original online video in 2013 and/or to increase their 2014 spending on originals.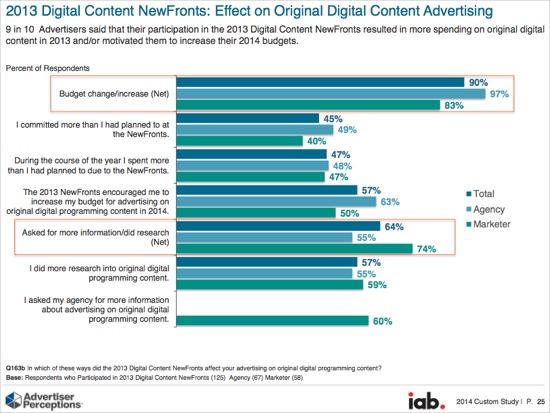 Lastly, no surprise, 82% of respondents said a multi-platform buying solution is important. Respondents anticipate that 35% of their spending will be on cross-platform buys, up from 26% 2 years ago.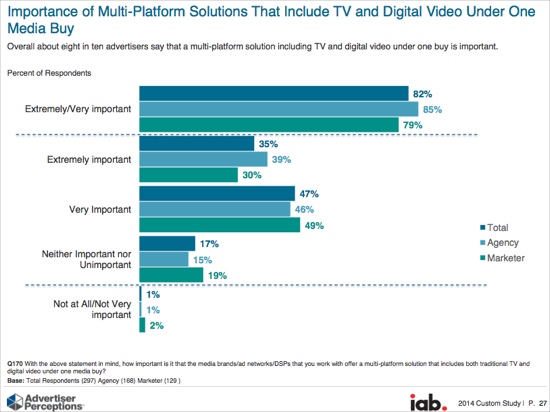 The research was conducted by Advertising Perceptions, of 297 buy-side executives during the period April 1-16, 2014. The full research is available for complimentary download here.