Tuesday, May 3, 2016, 11:55 AM ET
|
New IAB research indicates that ad spending on original online video is up 114% in the past 2 years. The 360 advertiser and agency executive respondents said that their average original online video ad spending has increased from $2.1 million in 2014 to $4.5 million in 2016. Telecom is the vertical with the highest average spending in 2016 ($6.7 million), followed by Health and Beauty ($6.4 million).

The research revealed that more than a third of advertisers' online video budgets and 38% of their original video budgets will be allocated at the NewFronts, underscoring why online and established companies continue to invest in their presentations. 8 in 10 respondents (including both TV buyers and digital buyers) said that they increased their original online budgets due to NewFronts attendance.
The sources of funding for increased original online video ad spending vary, but moving dollars from TV was the biggest, cited by 64% of respondents. The primary challenge for spending more on original online video cited by TV buyers was quality of content, price and complexity of executing a buy. For digital buyers it was ROIs vs. other media, quality of content and price.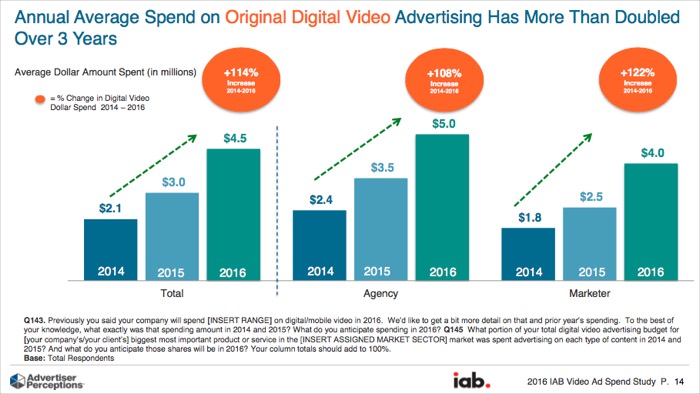 When choosing which original online video to for campaigns, quality of programming, quality of environment, audience insights, effective audience reach and attractive costs/CPMs were among the top 5 factors respondents cited, reinforcing why "premium" quality is critical.

Overall, advertisers reported spending over $10 million on average in 2016, up from $5.5 million in 2014, with mobile video an important growth driver. Programmatic video buying accounted for 41% of online video ad spending vs. 26% 2 years ago. 63% of respondents said they plan to increase their video spending in 2016.

Cross-platform buying has also increased in importance with 35% of respondents' budgets being allocated this way in 2016, up from 29% in 2014.

The full report contains lots more details and can be downloaded here.