Wednesday, November 5, 2008, 9:59 AM ET
|
Periodically VideoNuze makes complimentary research available that is beneficial to our audience of broadband decision-makers.
Today I'm pleased to offer for complimentary download a handy one page digital media workflow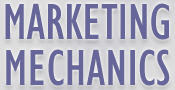 "snapshot" created by Marketing Mechanics, a consulting and market intelligence firm run by Ellen Grace Henson. The snapshot identifies features and capabilities for over 20 broadband technology companies.
Ellen has been in and around the digital media industry for many years in product management and marketing roles and has lately consulted with Kontiki and Move Networks among others. She reached out recently to familiarize me with her work and to share the snapshot. Though she readily concedes the document is not meant to be comprehensive, it provides a very good framework for making sense of the crowded broadband landscape.
The ecosystem of companies supplying necessary products and services to content creators who want to capitalize on broadband's rise is complex and dynamic. I'm often asked for data and comparisons of industry vendors; I think the snapshot can begin to fill that role. It will no doubt evolve over time, as the industry changes and customer requirements grow.
The snapshot dates to when Ellen was consulting for Kontiki (when it was owned by VeriSign), but it was updated as of September 2008. Ellen pulled together the information by talking directly to the companies cited; by definition that means readers will need to carefully assess the data in the context of their own experience and knowledge.
Readers will also quickly notice that not all companies in the space are included; the snapshot is very much a work in process and Ellen will continue adding companies and information to it. In fact she envisions a hybrid business model where paying market intelligence subscribers would get more granular and complete competitive detail. For more information, please feel free to contact Ellen directly. Also, keep an eye on the firm's web site (where this download is also available) for future updates.