Monday, June 20, 2011, 9:33 AM ET
|
Here's a interesting tidbit from comScore's Video Metrix - the top sports property in May, as ranked by unique viewers, wasn't any of the names you'd expect (e.g. Yahoo Sports, ESPN, MLB, SI, etc.), but rather a little-known, four year-old start-up named CineSport. As the chart below shows, CineSport generated 13.1 million unique viewers in May to top the list (CineSport was actually number one in April too, and has been so periodically before as well). How CineSport is generating so much viewership says a lot about how online video is creating unexpected new opportunities for those with clever approaches. Last week I caught up with CineSport's CEO and founder Gregg Winik to learn more.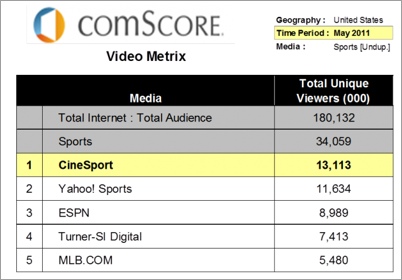 The key to CineSport's success is that it's a syndicator of online video sports content, rather than a central destination property like the others. CineSport has deals with over 70 well-trafficked media partners, primarily larger newspaper sites. CineSport got its start by licensing highlight clips from major sports leagues and rights-holders and syndicating them along. But Gregg said CineSport realized the web was awash in highlights, and so to differentiate itself it began partnering with these same newspaper sites to do short video interviews with their sports reporters which would be inserted in these sites or syndicated on to third parties. CineSport is now producing 40-50 "point of view" clips per day of 1-3 minutes each, which together account for about 70% of the content it syndicates.
For the newspapers' sites these are valuable deals because they get turnkey video content that can be monetized better than text-only articles with display ads. Since their resources are tighter than ever, these types of partnerships have become more important. And by partnering with CineSport, their sports reporters, who are often the foremost experts on local teams, gain national exposure. For CineSport, the short video interviews, often conducted via Skype, are very inexpensive to produce.
By focusing on building third-party distribution with affordable content, CineSport is another great example of what I've called the "Syndicated Video Economy." In this model, the emphasis is on distributing video to wherever audiences are, as opposed to attracting them to a destination site. The idea is that in an ad-driven environment, syndication is the best opportunity to create necessary scale. The best example of this succeeding has been 5Min, which AOL acquired last fall. Others like Grab Networks have also been pursuing syndication and ad technology providers like FreeWheel have been instrumental in monetizing video views on third-party sites. YouTube has also become a primary distribution partner for many content providers and brands.
Gregg indicated that CineSport will soon extend its content production to longer, more in-depth video packages for syndication. It has also recently launched CineStars, expanding into the entertainment category. Add it all up and CineSport is showing how small players can have a big impact by choosing their verticals wisely, producing original content inexpensively and aggressively syndicating.