Monday, April 14, 2014, 11:28 AM ET
|
Late last week Google released research demonstrating the growing impact that YouTube and Google are having on TV show viewership and engagement. Per the chart below, Google found that for a sample of 100 broadcast and cable networks, TV-related activities on Google and YouTube for May-December 2013 were up sharply across 5 different metrics vs. the same period of 2013.

The biggest gainer was TV-related watch time on YouTube, which was up 65%, followed by TV-related engagement activities on YouTube (up 56%) and TV-related searches on YouTube (up 54%). The big driver of searches was mobile devices, which experienced a 100%+ growth rate year-over-year.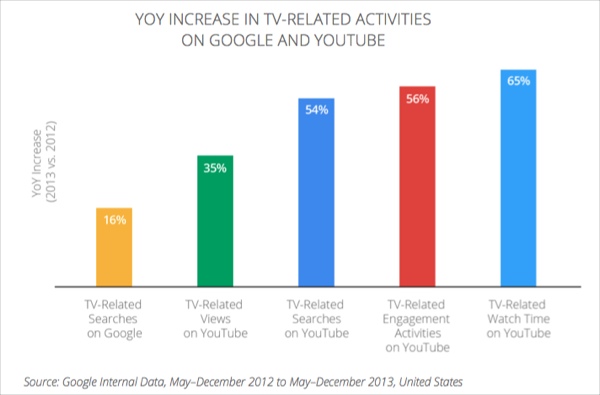 Google also found strong correlations between Google/YouTube searches with live plus 3-day viewership. The research found that for new shows search activity remains roughly constant starting around 20 weeks before premiere week and then spikes during premiere week and stays relatively high 4-6 weeks after. Trailers are the most-watched type of content for new shows.

Conversely, returning shows have constant search activity even during off-seasons. No surprise, serialized dramas, particularly those targeted to teens have the highest search activity.

Beyond search, discussing and creating new TV show-related content is popular on YouTube, with over 7 pieces of user-generated content uploaded for each piece uploaded by the TV network. Game of Thrones led with 89 user-generated videos per network upload, followed by The Vampire Diaries with 69. TV networks' YouTube channels are becoming a key part of the promotional mix, increasing their subscribers by 69% from January to December 2013.

Google/YouTube's growing role in TV dovetails perfectly with Chromecast, which lets users easily move video from mobile devices to the TV. The company has a huge role to play in the full lifecycle for TV programs: discovery, viewing, engagement and monetization. This is why the living room is so important to Google and why it will continue pushing multiple initiatives, like Android TV, to try gaining the strongest foothold possible.

The full research report is available here.