I've often said that YouTube is the 800-pound gorilla of online video, but I was always basing that on its share of the U.S. market. Now, with comScore's first-ever release of global data from its Video Metrix service, it's clear that YouTube is in fact planet earth's 800-pound gorilla of online video.
As seen in the chart below, in October YouTube delivered almost 44% of the 201 billion videos viewed globally, nearly 20 times as much as China's Youku, which was in second place with 2.3%, and nearly 7 times as much as the #2-5 players. Since the global market is so fragmented, based on some assumptions I've made, it's quite possible that YouTube has more market share globally than the top 100 video sites,

combined

. Wow.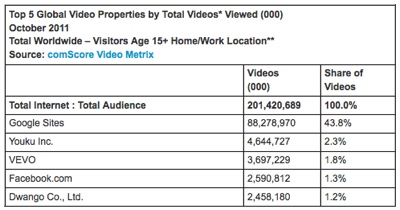 YouTube has always noted that it has a big international footprint, but the comScore data really bears this out. YouTube delivered 88.3 billion videos globally in October, but only about 21 billion of those were in the U.S., which means that over 76% of its viewership is international. So as important as YouTube's efforts to monetize its massive traffic in the U.S. are, it looks as though there could actually be three times as much opportunity internationally.
Here's another amazing data point about YouTube: despite the growing popularity of other sites (e.g. Netflix, Hulu, Facebook, etc.), YouTube's market share in the U.S. was actually

24% higher

in November, 2011 than it was in November, 2010 (50% vs. 38.1%). As the chart below shows, after holding roughly steady from August, 2010 to June, 2011, YouTube's U.S. share has really surged since. (I'm not sure it's relevant, but this past August comScore changed from reporting "Viewing sessions" to "Videos viewed").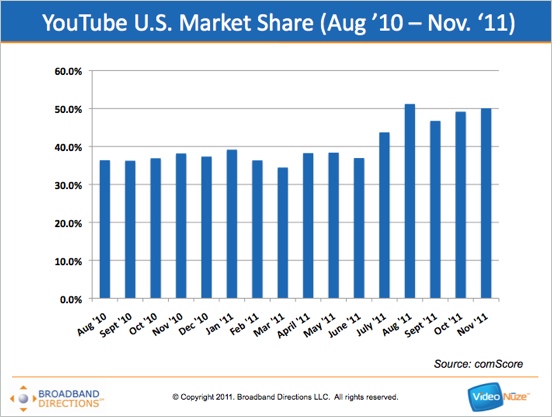 All of this data should quiet anyone who may still be questioning whether Google's all-stock acquisition of YouTube in 2006 made sense. To have these kinds of market shares at this stage of the online video market's development is astounding, making the deal look like one of the smartest tech sector acquisitions in history and creating tons of opportunities for Google to capitalize on YouTube's market dominance.