Wednesday, March 9, 2016, 12:02 PM ET
|
In a sign of how extensively connected and mobile devices have proliferated, video ads viewed on them have surpassed video ads viewed via browsers on desktops and laptops for the first time, as measured by FreeWheel in its new Q4 '15 Video Monetization Report.

As seen in the graphic below, while desktops/laptops accounted for 40% of video ads views (up .1% vs. Q4 '14), video ads viewed on connected TV devices accounted for 22% (up 76% YOY), with smartphones accounting for another 19% (up 92% YOY) and tablets at 9% (up 40% YOY). Combined, these devices account for 50% of ad views. FreeWheel also reported 10% of of ad views occurring on pay-TV operators' set-top box VOD.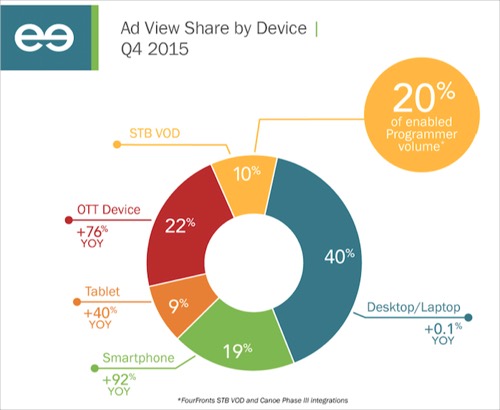 Among connected TV devices, Apple TV continued to dominate with 44% share of video ads viewed (up from 38% in Q3 '15), followed by Roku (34%, up from 31% in Q3 '15), gaming consoles (15%, down from 20% in Q3 '15), Chromecast (5%, down from 9% in Q3 '15) and smart TVs and Amazon (each at 1%, flat).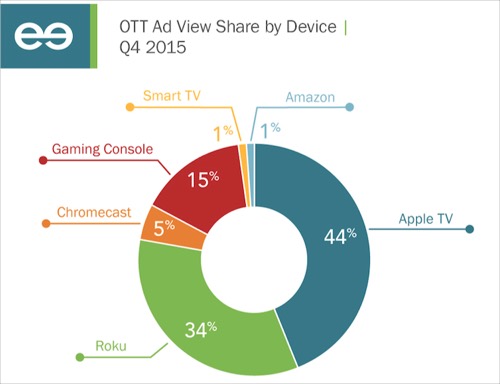 No surprise, connected TV devices also had the highest share of video views with duration over 20 minutes (64%) compared to tablets (52%), desktop/laptop (38%) and smartphone (27%). Also, no surprise, entertainment was the most prevalent genre on connected TVs, accounting for 54% of ad views, followed by sports, which accounted for 29%. Conversely, smartphone had the highest share of its video views under 20 minutes (63%) followed by desktop/laptop (36%).

Continuing prior trends, FreeWheel found strong growth in the premium video segment in Q4 '15, with video views up 32% YOY and ad views up 30% vs. Q4 '14. Once again, live programming was the key driver of consumption, up 129% in Q4 '15 vs. Q4 '14.

As always, sports was the biggest component of live programming, accounting for 69% of ad views. Entertainment (78% of ad views) and kids (58% of ad views) dominated long-form programming, which itself was up 56% YOY. And music (87% of ad views) and news (72% of ad views) dominated short-form, which itself was up just 11% YOY.

Finally, FreeWheel again included useful data on TV Everywhere, finding that 65% of ad views in Q4 '15 in long-form and live content occurred in authenticated viewing, up from 56% in Q4 '14. Live sports and long-form entertainment dominated TVE ad views in Q4 '15 with 46% and 43% share, respectively. Desktop/laptop and connected TV devices dominated as the way to access TVE content with 37% and 31% share, respectively.

FreeWheel also included lots of data on video syndication, ad sales by direct vs. indirect channels, ad loads, ad durations, ads by vertical, and snapshots comparing U.S. vs. European trends.

I'll post a link to download the report as soon as it's available.